By Neshele Godfrey | 3RY Magazine Entertainment Editor

What's up Detroit! Welcome back to my Review Corner where you will find the latest scoop on upcoming entertainment, food, and places to travel. Let's chat. This month I would like to uplift my favorite power couple – Teyana Taylor & Iman Shumert. They are featured in April 2022 Edition of the Ebony Magazine. In this article, the couple talks up close and personal about their lives, businesses adventures, and black love. Make sure you show your support and get your copy today.
I am excited to announce the return of Flower Day at the Eastern Market on Sunday, May 15, 2022. The Vintage Eastern Market season also begins Saturday, May 7, 2022, 9:00am until 4pm. Location is 1515 Division St Detroit, MI 48207.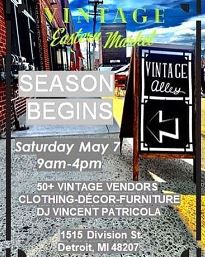 Motor City Ent & Mix 92.3 Detroit presents Pre-Mother's Day R&B Jam starring Monica and Tank at the Fox Theatre (Detroit) on May 5, 2022. Doors open 7:30pm. Tickets available at WWW.TICKETMASTER.COM.
The No Cap Comedy Tour is coming to Detroit Saturday, May 7, 2022, at the Fox Theatre (located at 2211 Woodward Ave, Detroit, MI 48201). Headliners include DC Young Fly, DeRay Davis, Lil Duval, Chico Bean, Karlous Miller, Michael Blackson, and Blaq Ron. You do not want to miss these laughs. Visit WWW.TICKETMASTER.COM for showtime and ticket information.
The Sound Board presents After 7 and Jon B on May 26, 2022.
The Canterbury Village presents their newest and biggest dinosaurs and dragons interactive walk-thru experience May 19th – May 22nd and May 27th – May 29th. For more information visit them at WWW.DINOANDDRAGONSTROLL.COM.
Polo & Pretty Women Charity Classic event at the Detroit Polo Club on Sunday, Jun 12, 2022. Visit WWW.POLOANDPRETTYWOMEN.COM for more information.
Are you ready for a worship experience with Kirk Franklin? Then you want to get your tickets for the Maverick City X Kirk Franklin Kingdom Tour. Please visit Little Caesars Arena for showtimes and ticket information.
The Kevin Hart Reality Check Tour 2022 will be at the Little Caesars Arena Detroit on Friday, July 15, 2022, and in Grand Rapids, MI on Saturday, July 16th. For ticket information, visit WWW.TICKETMASTER.COM.
Aretha Franklin Amphitheatre presents an evening with Music Soulchild on Friday, August 6, 2022, at 7:30pm. Theatre located at 2600 Atwater St, Detroit, MI 48207. Visit WWW.TICKETMASTER.EVYY.NET for tickets.
If you are in the market for great food, my top pick is the Dime Store (located at 719 Griswold Suite 180 Detroit, MI 48226). After dinner, why not read books and chill. My top selection of adult books this month include Every Little Step I Take by Bobby Brown and Jay Z Made in America by Michael Eric Dyson. My top selection for children's books for this month is Glow by Ruth Forman and Curls also by Ruth Forman.
If you prefer a nail-biting movie: The Ride (2020) starring Ludacris, Moonfall starring Hall Berry, and The Unbearable Weight of Massive Talent (2022). Benge-worthy series: The Endgame (2022) and Imposters (2017). Family Movie: Disney+ Cheaper by the Dozen starring Gabrielle Union. Disney+ has also created a children's series: The Proud Family: Louder and Prouder. Be sure to listen out for the voices like Tommy Davidson, Keke Palmer, Kyla Pratt, Billy Porter, Paula Jai Parker, EJ Johnson, and Cedric the Entertainer.
Want an adult experience, then hop on over to the 1:11 The Collective located at 15618 West 10 Mile Road Southfield, MI 48075. Guest can try their hand at axe throwing, plate breaking, relaxation, and so much more. Be sure to ask about the Self-care Sunday Vibes. The Legendary Axe (located at 37550 Cherry Hill Road, Westland, MI 48185) also offers axe throwing.
Favorite quote for this month: "Collect memories not things-." – Unknown.