Whether you're looking for slides or boots, these shoes are total Ugg lookalikes — at an affordable price point.
By Tessa Flores via Huff Post
I'm not exaggerating when I say that boots from Ugg, the apparel brand that popularized Australian-style sheepskin footwear, have been the shoe of this winter season. Everyone from Gigi Hadid to Keke Palmer has been spotted in a chunky Tasman slipper or the new platform booties, perfectly paired with some cozy knit socks.
I myself was influenced to purchase a pair only to wait weeks upon weeks for them to be available off backorder. As it turns out, the high demand has other Ugg-seekers facing similar problems.
As a way to avoid long shipping times, limited sizing and out-of-stock notices (while saving some money in the process), many people on TikTok and beyond have been buying some incredibly convincing and more affordable lookalikes instead.
These near-replicas come available in a number of Ugg's most popular and signature styles, like an ultra-mini slide or the classic sheepskin boots. Shop TikTok's favorites below.
HuffPost may receive a share from purchases made via links on this page. Every item is independently selected by the HuffPost Shopping team. Prices and availability are subject to change.
1. A shearling fur and sheepskin slipper
Closely resembling the Ugg Coquette slides, these plush clog slippers from Secret Treasures have a memory foam insole and are made with 100% genuine suede. The durable rubber outsoles make these appropriate for both indoor and outdoor wear and you can currently grab them in two colors in women's sizes 6-11. Although the platform version of these lookalikes are the style that went viral, they have since sold out — but these flat ones are a close second.
2. Embroidered Tasman lookalikes
The Ugg Tasman slippers are notorious for selling out. Luckily these convincing copycats from Public Desire haven't... yet. Featuring that signature embroidered trim, a low profile slip-on style and plush interior, reviewers say you would never know these aren't the real thing. You can get these in three colors in women's 5-10.
BLACK: $52.99 AT PUBLIC DESIRE
3. Platform mini suede boot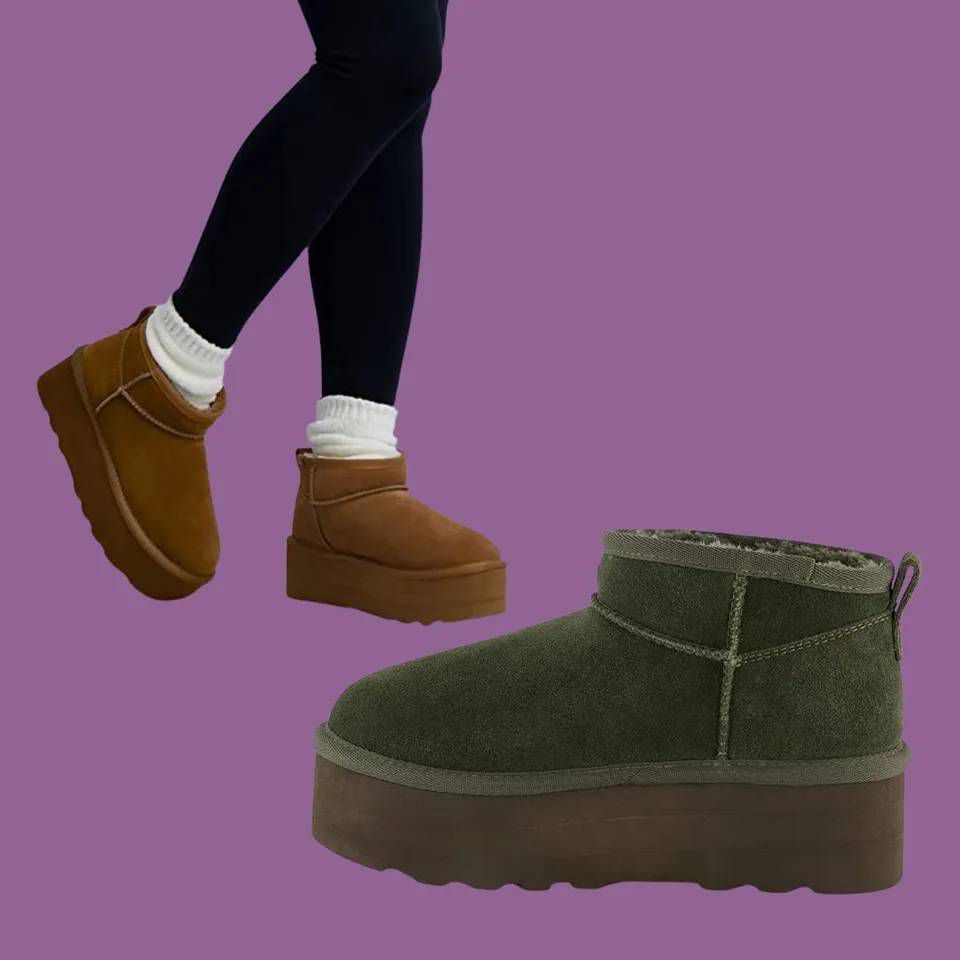 One shoe fueling the great Ugg resurgence is the brand's ultra-mini booties with a chunky platform. If you can't get your hands on the originals or don't want to spend over $100 on a pair, these by Cushionaire are a trending favorite on TikTok. They may not be made with shearling, but they do have a memory foam insole, a genuine suede exterior and a soft faux fur lining. They are also available in four colors in women's 5-12 as well as wide sizing options.
4. A mini ankle boot with memory foam sole
Also made by Cushionaire, these ultra-mini booties look identical to the Ugg version. They have a soft suede exterior, a faux fur lining and a long lasting rubber sole. The color and pattern options are equally as impressive and come in 21 different size options, including for wide feet.
5. A classic pull-on boot
6. Suede ultra-mini mules
If you like the look of the Ugg classic boot, but don't want to bother with a pull-on style, these mules modeled after the classic Ugg slipper are the option for you. They are made with genuine suede and a soft faux shearling lining, plus, there's a memory foam insole. If you don't like suede, there are vegan suede options, as well as 6 color choices in sizes 6-11.
7. A faux fur ankle bootie
Made by Koolaburra and resembling the Ugg Blakeley boot, these folded ankle booties feature faux fur lining, a genuine suede exterior, a rear pull tab and four color options. You can get these in women's sizes 5-12.
8. Padded puffer boots
Perfectly waterproof and snow-resistant, these padded boots with quilted seams from H&M mimic the Ugg puffer boots to near-perfection. This rendition has an elasticized opening along with a fleece lining and fleece insoles. They are available in women's sizes 4-10 and also come in a matte leopard print.
CORRECTION: A previous version of this story incorrectly said the Ugg brand was based in Australia.