Photographs by Kelsey McClellan
Illustrations by Sam Island
via Afar


WHAT DOES HOSPITALITY MEAN IN 2021? What should it mean? Traditional definitions put the guest front and center, first and foremost. But after a devastating year for the travel industry, we can no longer dine out, drink up, or bed down responsibly without considering the livelihoods of the people who help make our experiences possible. Hospitality—once thought to flow in just one direction—is mutual. It goes both ways. It is also about more than dining, drinking, and staying somewhere. How can we be better to the planet? To our fellow travelers? We don't have a crystal ball when it comes to the future, but we have some ideas—and, true to the spirit of hospitality, we didn't come up with them alone. — KATHERINE LAGRAVE
On The Road,Again
By Emma John
A longtime solo traveler takes her first postpandemic trip—through the charming villages of southeast England—and wonders if there's truly such a thing as traveling alone anymore.

AS LOCKDOWN BEGAN TO LIFT in the U.K., I decided to attempt a grand tour of my own country: At the wheel of my trusty two-seater, I would explore the British Isles end to end, from the Scottish Highlands to the west of Ireland to England's south coast. What an adventure! I could hardly wait.

But soon, I realized something—I didn't actually want to go. The distances felt overwhelming; the thought of booking hotels made my chest tighten. Logistics I would once have reveled in now weighed on me. My heart and mind were in unison: They wanted me to take it much, much easier.

In the past, I've felt compelled to put as many miles as I could under my tires; now, I found myself sketching out possibly the slowest road trip of all time. I would set off from my Buckinghamshire home in southeast England, taking quiet country roads through the Chiltern Hills and the rolling South Downs to the rural county of Wiltshire. I made Bath—a city I once lived in for a year and knew well—my turning point, and plotted a homeward route through the quaint villages of Oxfordshire, where some of my friends lived. In 16 days, I planned to cover 160 miles. I could, frankly, have walked it.

There was another reason for miniaturizing my ambitions. As someone who tends to take trips alone, I revel in my freedom, the sense of being beholden to no one but myself. But if I was going to resume travel, I couldn't in good conscience ignore the potential impact on those making it possible. The selfless service of so many frontline workers during a period of global existential crisis had inspired in me a desire to be a better citizen. At the very least, I could approach travel with an increased sense of personal responsibility. And in a way, that meant putting others before myself.

I set off with a suitcase loaded with plastic vials and long handled swabs—courtesy of the U.K. government's free rapid­ result testing kits—and a contact-tracing app downloaded on my phone that was silently, but continually, scanning my environment. I wanted to ensure I wasn't unknowingly carrying the virus to the very people (accommodation hosts, waitstaff, museum volunteers) facilitating my trip. Pulling up at my first night's lodging, a chalet in the garden of a couple who lived in beautiful seclusion in the Hampshire woods, I was aware of a powerful new perspective: the understanding that I was being allowed into other people's space and that this was a privilege in itself.

As the days rolled on, there was an incongruous sense of drama as I checked in at every venue I visited. Tearooms, cathedrals, the house where Jane Austen wrote her novels: Any one of these seemingly harmless locations could bring an abrupt end to my trip. If I was closely exposed to a confirmed case, I would be notified and instructed to self-isolate for a week.

I chose activities that would lessen my exposure—and my hosts' exposure—to risk. Gardens and walking tours were safer than crowded galleries, and alfresco dining preferable to the indoor kind, especially if I kept a blanket handy in the trunk of my car. Throughout, the generosity with which I was welcomed—by folks whose very livelihoods are wholly dependent on visitors—made me determined to repay their efforts by being a better guest. Communicating well seemed a good place to begin, as did honoring their time by arriving (and departing) when I said I would. I left every place as neat and tidy as possible, knowing that stringent hygiene-safety regulations put considerable additional burdens on those cleaning up after me. The less they had to do, the better.

I was determined, too, to acknowledge and learn more about the people I was encountering on the journey. Social distancing might keep us physically apart—even encourage a certain wariness—but I could counter that by arriving with a sense of the fellow human I was about to meet. I read the "About Us" sections of restaurant websites and the public profiles of my Airbnb hosts: Simon, the carpenter who had built by hand the Hampshire cabin I stayed in; Brian, the Canadian actor-turned-tour guide who took me on a literary walk around Winchester. I paid more attention to the waiters and chefs and bartenders and swimming pool attendants whose all-but-­invisible ministrations had never seemed more tender.

After a couple of days rediscovering Bath's resplendent Georgian streets and cozy wine bars, I climbed out of the steep Avon valley and along quiet Oxfordshire roads for the final leg of my trip. It occurred to me, as I savored those last lingering days of village pubs and quirky high streets, how quickly we become attached to places when we see them not as destinations, but as communities we're invited to temporarily belong to. As travelers, it's natural for us to want to get the most out of the time and money we've invested in a trip. But along with its many harsh legacies, the pandemic has offered this softer one: a reminder that when we're traveling, we're sharing life with others. A reminder that their experience of our mutual encounter is just as important as our own—if not more so.

Emma John is a contributing writer for AFAR.

Back to the Future
As we travelers emerge, slowly and optimistically, from the pandemic, so too do the people and places that host us. Along with this reemergence? A recognition that things won't ever be "the same." Here, eight leaders reflect on the industry's biggest question: What's next for hospitality?
Companies will be held more accountable
By Katherine LaGrave and Annie Fitzsimmons


"Before the pandemic, we were getting calls about sustainability. Now we're seeing: 'OK, so you're celebrating Juneteenth, but what are you doing in addition? What does your leadership look like? What does your Board of Directors look like? What initiatives are you doing internally to promote these things?' Customers are not out there for those one-liners. They want to know what exactly it is you're doing." —Victor Simmons, vice president of HR and head of Diversity, Equity, and Inclusion at Ace Hotel/Atelier Ace



Technology will be better utilized to fight climate change.

"At Red Carnation Hotels and Uniworld Boutique River Cruises, we're implementing AI technology to cut our food waste in half. Effectively, it can establish a baseline of how much food waste is going out in about six weeks. We can do that simply through weighing the waste. In some cases, there's a screen where we're storing up the garbage and can identify the items. AI technology takes a really practical approach to food—serving sizes, garnishes, and items that just really aren't being eaten or sold—and how we can reduce waste and get food at the source.

"If you think about the supply chain with the hotelier at the top, you've got all of these services that can reduce or remove waste, single-use plastics, and excessive transport on our food stocks. The supply chain opportunity is very, very exciting. It's why I always turn my nose up at the fact that people will say, 'Oh, if you're not small and bespoke, you can't be sustainable.' I call that hogwash. If you're a big player, you have such a massive opportunity for change." —Shannon Guihan, chief TreadRight and Sustainability officer at the Travel Corporation

Travel will become more accessible for all.


Some 1.2 billion people globally have a disability, but more than half don't travel because of a lack of information. Stephen Cluskey, a United Nations–certified accessibility expert, is the cofounder of Mobility Mojo, a company that helps hotels share their accessibility details online. He shares his vision for "normalizing accessibility."

How does accessibility affect everyone?
This is about your elderly mother, your father with the bad hip, and your bad back. People tend to think accessibility is a big bathroom and a ramp, but it's so much broader than that.

How do hospitality and a responsibility to provide access go hand in hand?
Hotels have these assets that they're not utilizing. Accessible bedrooms have the lowest occupancy rates and are the last to be booked. People with accessibility needs, on average, stay longer than your general traveler and spend more. If you think about a scenario where someone like myself—as a wheelchair user—is traveling, I'm not traveling by myself. I'm going to stay in the one accessible bedroom, which is the deciding factor for where the rest of the group and I go. The business case for this is around that one accessible bedroom, and the rest of the group staying in four, five, six other bedrooms as a result.

How does this potential make you feel?
I'm paralyzed from the neck down, but I need no more fulfillment in my life than what we're doing. It's incredible to think the team and I have the potential to impact more than a billion people around the world. We're incredibly excited to see changes at every hotel in the world. We believe we'll get there.

Indigenous producers will be prioritized.


Sean Sherman grew up on the Pine Ridge Reservation in South Dakota, where he remembers having a "single grocery store to service an area the size of Connecticut." Since then, he has worked to revitalize Native American cuisine: He is founder and CEO of the catering and education business the Sioux Chef, cofounder of North American Traditional Indigenous Food Systems, and co-owner/executive chef of the new Minneapolis restaurant Owamni, which serves food made exclusively with Indigenous ingredients and has a beverage list sourced almost entirely from Indigenous producers.

"We just really want to try and elevate people coming from BIPOC communities that don't have the same deck of cards," Sherman says. "For me, struggling to even get to a position like this—to be able to talk about these issues—is a long path. There were a lot of hurdles to overcome. In turn, as we developed how we go about things and how we do things, purchasing is a big part of the philosophy. We prioritize purchasing from Indigenous producers—first locally, and then nationally—and then we support our local food system as much as we can."

Businesses will set new social norms.


"It's actually not about doing things better. It's about changing deeply the way we work. If we keep doing the same things but try to just mitigate our impact, we are always going to run behind climate change and biodiversity loss. We cannot afford that. This requires radical change.

"We need to understand what our guests want, but our responsibility is to give them more options. A company that is responsible needs to not wait for customers to ask, then process this ask, and then turn it into something real, because it takes too much time. We need to be proactive. We can define new social norms." —Brune Poirson, chief sustainability officer, Accor

We will keep learning.
"Part of my work is to remember that this isn't my work—it's community work. There's no one person; there are no 10 people. It is a collective transformative process. The hospitality industry is in a deep learning curve right now. Some people are going to fall off while it's still going up, but if you want any type of transformation, you have to allow for that time." —Ashtin Berry, hospitality activist

Guests will give (even more) back to the world.

"There's this tremendous intersection between hospitality and exposing people to the wonders of the natural world, and that creates a very, very powerful dynamic, which I think is going to be even more powerful. Once upon a time, 'sustainable' was considered the Holy Grail—'Leave no footprint. Don't do any damage.' I don't think that's enough anymore, because we have done a lot of damage. There are opportunities to get companies and guests to really engage in regenerative travel, because we've got to repair a lot. We've got to repair cultural divides, we've got to repair monuments, we've got to repair to the degree that we can be effective.

"There's all kinds of science that says the thing that makes people happiest is giving to other people. You should say to yourself: Ensure that my behavior is not negative in relationship to whatever I'm doing or wherever I'm going. Secondly, ask yourself: What are some creative things that I can do to be helpful, beyond just not being negative? If you create an ethos around that, everybody wins." —Sven Lindblad, founder of Lindblad Expeditions, a luxury adventure cruise and travel company that is 100 percent carbon neutral

Women will have stronger support networks.

In November 2020, nine women restaurateurs in Los Angeles came together to launch Regarding Her, a nonprofit formed in response to the impact of COVID-19 on the hospitality industry. By January 2021 they had held their first 10-day festival, planned to occur annually, connecting more than 100 female food and beverage entrepreneurs through collaborations, conversations, and virtual events. Today, Regarding Her provides support for women in hospitality businesses via grants, networking opportunities, and more. "The hospitality industry was not always the most 'hospitable' place for women—it was very much a boys' club," says Brittney Valles, owner of Guerrilla Tacos and one of the nonprofit's founders. "So many women before us paved the way for this industry to be more welcoming to women. It is our job to maintain the space. When we encourage women leaders and success for women, we propel hospitality forward. In the future, we will see restaurant owners as community leaders, and that will largely be due to the influence of women."

Golden Rules of Being a Good Guest
Our vacations wouldn't be possible without the tour guides, housekeepers, concierges, cooks, and bartenders we encounter along the way. Here, their suggestions for making their days—and your trips—just a little bit better.
By Tim Chester and Laura Dannen Redman


1.Take the time to say hello.
"We interface with people all day, from all different walks of life. Where that interaction may not affect their day, a smile or kind word has a big effect on our days in hospitality. A kind word from a guest can make the difference between a good and a bad day. I guess that's true for anyone, but especially for hospitality workers." —Albert Rezk, director of rooms at Kayak Hotels Group
2.Eat responsibly.
"As a chef, you see what people are really eating. I want to make sure I'm cross-utilizing ingredients and keeping portion size front of mind so there's less waste. If you're dining out, it's great to share items family style. Your eyes are bigger than your stomach." —Mona Guerrero, chef de cuisine at California's coastal Terranea Resort
3.Listen—and learn—from the local community.
"The most meaningful experiences I've had with visitors to Trancoso are introducing capoeira to them and persuading them to join me for a spontaneous visit to the public academy to practice with the community. The local players adore having an audience to show off to and teach, and they're incredibly proud that people want to meet them, to learn their culture. It's a beautiful human exchange, full of laughter and smiles." —Carlos França, capoeira player and senior concierge at Uxua Casa Hotel & Spa, Trancoso, Brazil
4.Be sensitive.
"A country's past and its politics shape its people, but it doesn't define them. If you wish to dig deeper into difficult topics when chatting with locals, do so with sensitivity. There are many countries that have gone through eras of conflict, and these experiences may influence how a foreign guest is perceived by locals. Showing empathy toward people and seeking to understand how these events influenced them is a way of honoring another nation." —Alfred Sze, Hong Kong–based Asia/Pacific guide for Kensington Tours
5.Consider leaving something extra before checking out.
"We always appreciate when guests recognize that all of these experiences take human effort. And we appreciate it when they show their gratitude to us by giving gratuities." —From the housekeeping staff at Casa Kimberly, a luxury boutique hotel in Puerto Vallarta, Mexico
6.Give a little grace.
"Bars and restaurants have been fighting for their lives, and most team members signed on to help save the ship—but now it's gone from triage to running a marathon overnight. Remember that your server probably worked for months not knowing whether they would randomly get COVID and potentially die. Remember that mask mandates and safety protocols vary widely, so what you're used to may not be the norm. Don't be alarmed if you see service included, an insurance fee, or any other fee that you aren't used to; revenues are down and wages are up, so everyone has to find ways to recruit competent team members, and invariably that will be passed along to consumers via prices or fees." —Neal Bodenheimer, managing partner of CureCo. and operator of Peychaud's, New Orleans

Here to Stay
Twenty years after the attacks of September 11, we're still carrying our conditioner in "travel-size" containers. What shifts in behavior—and protocol—are likely to outlast the pandemic?
By Michelle Baran



Smaller (and slower) travel


Crowds were a big no-no during the height of COVID in the United States. As a result, private winetastings, personal chefs, small-group tours, and hospitality experiences catering to pandemic "pods" all saw spikes in demand. While some people may be ready to head straight into a sweltering mosh pit after being vaccinated, others, who enjoyed the benefits of more intimate activities—the personalization and greater attention to detail among them—haven't been so quick to return to crowds. Expect this hyper­personalization to continue to manifest in myriad ways: travelers choosing small-ship expeditions and river cruises over mega-ships; vacation rentals with enhanced concierge services.

Trips will likely get longer, too: COVID-related travel mandates (like quarantine and testing requirements) have made shorter getaways less attractive, and a more remote workforce means it will be easier than ever to blend travel and "work" by the pool.

The comfort of clean

Research now shows that exposure to infected respiratory droplets—not to contaminated surfaces—is the primary source of virus transmission. But we got comfortable knowing that everything we touched was being sanitized: Four Seasons Hotels and Resorts partnered with Johns Hopkins Medicine International to consult on cleanliness, and Hilton linked up with Lysol to make disinfecting a top priority. Airlines, for their part, showcased their commitment to giving their aircraft a more thorough scrub-down and made contactless check-in more widely available at terminals—and even on planes. (JetBlue now offers touchless seatback screens; use your phone as a remote instead.)

This fixation on cleanliness won't disappear but will evolve with time, comprising cleaning tech resembling something out of The Jetsons: Think airport bathroom–cleaning bots, UV smartphone–cleaning docks in hotels, and fogging devices that spray disinfectant.

A (real) biometric boom


Touchless technology was already on the rise as a matter of convenience: Airlines implemented facial recognition technology to speed up the boarding process, and Customs and Border Protection added it to Global Entry kiosks at more than 150 U.S. airports. But now that personal health status has become an unavoidable factor of the travel experience, touchless tech is necessary for the efficient identification of our vaccination and/or COVID­-testing status, too. Already, there are numerous vaccine and health passport apps in development, including the IBM Digital Health Pass, the CommonPass, and the International Air Transport Association's IATA Travel Pass.

Privacy advocates have long voiced concerns about governments cataloging our faces and fingerprints; the issue is no less contentious when it comes to personal health information. But like it or not, vaccine passport apps and mobile health technology are with us for good.

Alfresco everything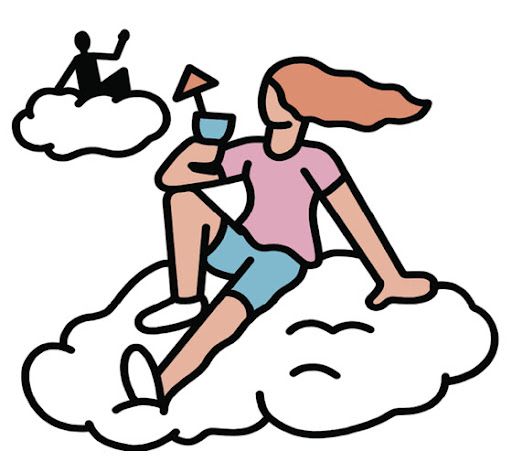 What started with social distancing evolved into a more pleasant way to experience gatherings of all kinds. Hotels enhanced their outdoor areas to help guests get more fresh air; parking spaces became parklets. The public—still wary of being in close quarters with strangers—flocked.

Instead of treating this flexibility as a short-term solution, the savviest hotels, bars, restaurants, and destinations have recognized its potential. In May, New York City mayor Bill de Blasio signed the Open Streets program—which blocked off streets exclusively for pedestrians—into law. In June, Paris announced its 9,800 once ­temporary cafés-terrasses would become permanent from April to October. Meanwhile, new hotel (and Stay List pick) Paradero Todos Santos on Mexico's Baja California Sur peninsula has committed fully to the outdoor-as-indoor concept, with a lobby, spa, and suites set somewhere in between. Call it the power of the pivot.

STYLING BY ANNA RABEN