By Ama Kwarteng via Cosmopolitan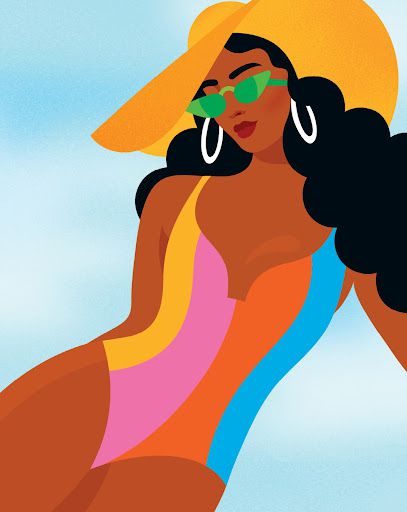 No matter your skin tone, you still need sun protection every single day. It's always gone without saying – at least, for me – that BLACK LIVES MATTER. It's also clear that some folks need to be reminded of this, as they did when the world came together over a year ago to protest against police brutality and racism.

While a story on SPF might seem minor in the fight for equality, it's important to see self-care as a pretty revolutionary act of self-preservation that shouldn't be taken lightly. I also know a lot of you are probably thinking, "Do Black people really need SPF?" Absolutely, 100% yes, we do. Let me break down exactly why that is.While it's true that Black people are less likely to get diagnosed with skin cancer than other racial groups, when they are diagnosed, the outcome is often worse. According to The Skin Cancer Foundation, the five-year melanoma survival rate (AKA the likelihood that you'll still be alive five years after diagnosis) is 67% for Black patients, versus 92% for white ones.

There are a million frustrating factors behind this statistic, but there is one universal and relatively accessible thing that can help us: SPF. Ask any dermatologist (literally any in the entire world) and they'll tell you that the best way to prevent skin cancer – no matter your skin colour – is by using sunscreen. Except, according to a recent Cosmo poll,* one in three Black women never, ever wear SPF. So don't feel ashamed if you don't have any on – this is a widespread issue. And the idea that we don't need it – that Black and brown skin is immune to the sun's harmful rays – is a myth that's been perpetuated for way too long.

Not helping: sunscreen ads and skin-cancer warnings that don't reflect, or aren't directed to, people of colour, which further pushes the idea that we don't need to worry. Also not helping: all the thick, white lotions that don't even come close to blending into our beautiful brown skin.

Look, I know that it feels like the world is moving at a mile a minute, and it's easy to get wrapped up in everything going on around us, but using daily SPF is a small (and pretty damn significant) way to take care of yourself and show your skin some love. So keep reading to find out why every Black-person SPF myth is BS, how to check your skin for moles and marks at home, and the best sunscreens for melanin-rich faces and bodies.


Your quick, easy guide to an at-home check-up
Black people are less likely to get skin cancer – but diagnoses still happen, and by then, the disease is usually in an advanced stage, meaning it's more deadly and harder to treat. In an ideal world, we'd all have regular skin checks from a doctor, but I get it. A global pandemic, fear and myths around access to dermatologists are among the reasons people don't get checked out. Which is why you should at least know how to check yourself each month at home, according to dermatologist Dr Shani Francis.

STEP ONE
Start by checking your face for anything new, changing or unusual (think: a wart or scab that won't heal, a bump that's grown in size, or moles that are darker than other moles you might have). Include your lips, mouth, nose and behind your ears. Use a full-length mirror and a hand mirror to get an extra clear look.

STEP TWO
Don't forget about your scalp. Grab a hairdryer to move your hair out of the way and thoroughly inspect each part. If you're rocking a protective hairstyle – and depending on how long it is – this method won't be as easy. Ask your hairstylist to give your scalp a good check before they start styling your hair.

STEP THREE
Keep moving your body, making sure you check everything, from under your fingernails to the soles of your feet. Sounds weird, but the proportion of skin cancers that occur in non-sun-exposed sites is actually greater in populations with darker skin, which is why you have to be thorough.

STEP FOUR
If you see anything on your skin getting darker, changing in size or shape, itching or bleeding, make an appointment to get it checked out by a pro ASAP. If booking an in-person appointment isn't possible, schedule a virtual consultation.

THE SUN-CREAM CHECKLIST
► At least SPF 30 or higher. Anything less won't give you adequate protection.
► Broad-spectrum coverage to protect your skin from both UVA (ultraviolet ageing) and UVB (ultraviolet burning) rays (both can cause skin cancer).
► A non-comedogenic formula, meaning it won't clog your pores or cause acne.
► A "clear" or "sheer" label, which basically means it won't leave your skin looking chalky or ashy.

3 SPF "FACTS"
(THAT ARE ACTUALLY FICTION)
MYTH
MELANIN OFFERS NATURAL PROTECTION AGAINST UV RAYS
Nope. Melanin alone is definitely not enough to protect you, says dermatologist Dr Saya Obayan. Studies suggest that the darkest skin tones may have a built-in SPF of up to around 13, explains dermatologist Dr Shani Francis. But that's not even close to the recommended daily SPF30 or higher.

MYTH
YOU DON'T NEED SUNSCREEN IF YOUR SKIN DOESN'T BURN
Just because you don't turn red doesn't mean that your skin isn't being damaged. "UV rays can still mess with the genetic materials in your skin cells," says Dr Obayan. If you get enough DNA damage, your cells can start to grow out of control, which can lead to cancer.

MYTH
"BLACK DON'T CRACK"
Sorry to be the bearer of bad news, but Black does crack – as in, it wrinkles – it just happens a little later than in other racial groups. If you want to invest in your future self's skin (why wouldn't you?), protecting yourself with daily SPF is the way to do it. "In time, UV damage breaks down collagen and elastin – the proteins that keep skin firm and smooth – leaving you with leathery-looking skin," says Dr Obayan. And there's also the hyperpigmentation thing. "Melasma, which causes large, shadowy skin patches, and post-inflammatory hyperpigmentation (the dark marks and scars that linger post-breakout) are both common in people with more melanin in their skin – and they're exacerbated by UV exposure," says dermatologist Michelle Henry.

Find your perfect formula: