By Chris Nashawaty via People

FROM THE U.S. SOUTH DURING THE DEPRESSION TO THE PLAINS OF COLONIAL AFRICA—WITH A DETOUR FOR SOME DELOREAN TIME TRAVEL—THE MOVIES TOOK US FAR

GREAT SCOTT! IT'S A HIT AT 88 MPH
BACK TO THE FUTURE
TWO SITCOM STARS—THE RIGHT-WING KID FROM FAMILY TIES AND THE ODDBALL ON TAXI—PAIRED UP IN THIS TIME-TRAVEL COMEDY, 1985'S TOP-EARNING FILM

WHERE WE'RE going, we don't need roads." Those words, of course, were spoken by Christopher Lloyd's wiggy mad scientist Doc Brown to Michael J. Fox's teen time traveler Marty McFly. But the line could just as easily have described the box office path that Back to the Future blazed in the summer of 1985. Directed by Robert Zemeckis, who had convinced a reluctant Universal Pictures that he was the man for the job after his previous film, Romancing the Stone, became a surprise blockbuster, Back to the Future would become the top-grossing movie of the year, raking in $389 million worldwide. With Steven Spielberg as producer, this exquisitely engineered film became a global phenomenon thanks to its twisty sci-fi plot, its giddy blast of ridiculous fun and a neurotically self-assured performance from Fox, who until then had mostly been known as Young Republican Alex P. Keaton on the sitcom Family Ties. Despite its pretzel-logic story line—a high school kid leaps from 1985 to 1955 to get his mom and dad (Lea Thompson and Crispin Glover) to fall in love again without altering history—Back to the Future was a clever meditation on the generation gap that resonated as profoundly with teenagers as with their parents, who would recognize the moment when television, rock and roll and high schoolers began to take over American culture. "The movie, in fact, resembles Frank Capra's It's a Wonderful Life more than other conventional time-travel movies," wrote Roger Ebert in his review. "It's about a character who begins with one view of his life and reality, and is allowed, through magical intervention, to discover another." It also managed to be of-the-moment, with a theme song by Huey Lewis and the News and a DeLorean playing the role of the time machine. At the film's center, Fox's flustered, fish-out-of-water performance still stands as the most indelible of his long career. "Back to the Future came out of nowhere," Fox told People when it was first evident that the film, which spawned two sequels, was a monster hit. "I don't where it's all coming from, but whoever's behind it, I'd like to send him a bottle of wine."

Michael J. Fox's Double Life

Despite the fame Family Ties brought him, Michael J. Fox wanted more than playing baby-faced Reaganite Alex P. Keaton, the oldest child of two Columbus, Ohio, ex-hippies (Meredith Baxter Birney and Michael Gross). "I got sick of turning on the TV and seeing my face," Fox, 24, told People at the time. "The television turned into a mirror for a while." An opportunity came when Eric Stoltz was dropped as the lead in Back to the Future. Fox was offered the part, but, with his show at No. 5 in the ratings, his TV family wouldn't release him from his contract. So he did both. "During my 'year of living dangerously,' I worked on Family Ties during the day and Future at night and got maybe three hours of sleep," he said. The grueling schedule paid off, though: Fox became a movie star and still earned an Emmy for Family Ties the next year.

'…BUT DEAR GOD, I'M HERE'
THE COLOR PURPLE
HOLLYWOOD NEWCOMER WHOOPI GOLDBERG LED A TALENT-PACKED CAST IN THE MOVING SCREEN VERSION OF ALICE WALKER'S NOVEL

FROM THE moment it was announced that Steven Spielberg, maestro of escapist blockbusters, would be directing an adaptation of Alice Walker's Pulitzer Prize-winning 1982 novel The Color Purple, eyebrows went up. Did the director of Jaws and E.T.—The Extra-Terrestrial have the requisite gravitas? (He had not yet brought forth heavy fare like Schindler's List or Saving Private Ryan.) And would he find the sensitivity to do justice to the instant classic of the African-American experience? The answer came soon enough when the film opened on Dec. 18, 1985. In the Chicago Sun-Times, Roger Ebert said of what would end up being his favorite film of the year: "It's a great, warm, hard, unforgiving, triumphant movie, and there is not a scene that does not shine with love of the people who made it." The poignant coming-of-age epic was fueled by a trio of staggering performances from Oprah Winfrey, Desreta Jackson and, in a stellar film debut, Whoopi Goldberg as the protagonist, Celie Harris, who struggles to find joy amid unspeakable poverty, racism and sexual abuse in the American South of the early 20th century. The film would earn $142 million (on a budget of $15 million) and rack up 11 Oscar nominations, including Best Picture. Never mind that it didn't win a single statuette; The Color Purple was—and remains—a three-hankie triumph. It would also prove to be timeless, leading to a hit 2005 Broadway musical (co-produced by Winfrey and Quincy Jones) and later a Tony-winning revival in 2015, starring Jennifer Hudson and Cynthia Erivo.

Oprah's Big Year

Oprah Winfrey has become such an entrepreneurial force in entertainment over the past three and a half decades that it's hard to imagine a time when she was an underdog. But that's exactly what she was in 1985, when People spoke with Winfrey, then 31, on the eve of The Color Purple's release. Sure, starring in a Spielberg film was a huge step in what would become a global march to media superstardom, but it was on the small screen where she was about to vault into the big time. Back then Winfrey may not have been a household name, but she was already a down-home Chicago institution. By 1985 WLS-TV had slotted The Oprah Winfrey Show opposite the much bigger daytime talkfest Donahue. It was a David vs. Goliath matchup. And David, which is to say Oprah, kicked Donahue's butt in the ratings, leading to a deal that would syndicate her show in 100 markets across the country the following year. America was about to fall in love. As for Phil Donahue, all he had to say about Oprah's new national platform was this: "I wish her luck, but not in my time slot."

EQUATORIAL EPIC
OUT OF AFRICA
THIS EXOTIC, STEAMY LOVE STORY, STARRING TWO OF THE '80s HOTTEST STARS, REACHED FULL BOIL AT THE BOX OFFICE

I HAD A FARM in Africa, at the foot of the Ngong Hills…" So begins one of the decade's dreamiest and most sweepingly romantic cinematic epics, Out of Africa. The voice-over, of course, is provided by Meryl Streep, playing Karen Blixen, the adventure-seeking Danish heroine of Isak Dinesen's great 1937 memoir. And for the next two and a half hours, director Sydney Pollack takes us on a lush tone-poem journey set against the breathtaking natural-wonders backdrop of Kenya. It was a sensually exotic trip that moviegoers were only too happy to take thanks to the smoldering onscreen pairing of Streep and Robert Redford—arguably the two most captivating actors of the '80s. At that point, audiences would have followed Streep—she of Sophie's Choice, Silkwood and Plenty—anywhere. None more so than the film's screenwriter Kurt Luedtke, who says he wrote the part of Blixen with Streep (and only Streep) in mind: "If someone had said. 'We talked to God, and there is no possible way Meryl Streep will do this role,' I might have said the hell with it." Streep's fiery, free-spirited character begins the film dissatisfied with her traditional early-20th-century life in Denmark and boldly sets out for Kenya (then a British colony), where she builds her dreams of a new life on a coffee plantation and falls for the impossibly handsome British game hunter Denys Finch Hatton (Redford). "You might have asked, Denys," says Blixen's controlling, estranged husband (Klaus Maria Brandauer) to Redford, his cuckolder. "I did," Redford famously replied. "She said yes." Ticket buyers lined up to see these two superstars together, even though the reviews were more mixed. Made for $28 million and released a week before Christmas, Out of Africa would eventually gross a staggering $227.5 million at the worldwide box office and win seven Oscars, including Best Picture, beating out The Color Purple, Kiss of the Spider Woman, Prizzi's Honor and Witness.


DON'T YOU FORGET ABOUT…
THE BIRTH OF THE BRAT PACK
THE ONE-TWO PUNCH OF THE BREAKFAST CLUB AND ST. ELMO'S FIRE MARKED A GENERATIONAL SHIFT IN HOLLYWOOD: YOUTH RULED THE NEW A-LIST

THE COMBINATION OF NAMES and faces had already appeared in several movies, but in 1985 they would finally be given a moniker that would, for better or worse, come to define them: the Brat Pack. The nickname, a snarky younger-sibling twist on Frank Sinatra's ring-a-ding-ding Rat Pack gang of good-time pallies in the '50s and '60s, was first handed down in a New York magazine cover story accompanying the release of the post-college romantic-dramedy roundelay St. Elmo's Fire. (Point of history: Writer David Blum's proto-Pack included only male actors, among them Sean Penn, Tom Cruise and Nicolas Cage.) But soon the label stuck to a posse of young stars, with a particular focus on cast members of 1985's The Breakfast Club and St. Elmo's: Rob Lowe, Emilio Estevez, Demi Moore, Judd Nelson, Ally Sheedy, Molly Ringwald, Andrew McCarthy and Anthony Michael Hall. In retrospect the '80s was a Golden Age for coming-of-age films. They seemed to sprout up at the multiplex like toadstools after a rain storm. And 1985 would turn out to be a peak year for the genre. John Hughes's The Breakfast Club and Joel Schumacher's St. Elmo's Fire were different, of course: One took place in the safe if annoying confines of a day of high school detention, the other at that uncertain moment when your adult life stretches before you, but you still feel like a kid. Yet they shared the same Gen-X DNA of existential aimlessness, obsessive romance, sarcastic humor and hooky pop soundtracks. The critics, including People's, were slow to respond to their ineffable appeal. But they resonated with younger viewers who could relate to the brain, the athlete, the basket case, the princess and the criminal trapped together in The Breakfast Club, or to one of the seven Georgetown grads flailing in the real world in St. Elmo's Fire. "Not a day goes by that someone who should know better tells me they love that movie," Rob Lowe told EW in a 2017 St. Elmo's reunion. "Like Gwyneth Paltrow, who can legitimately recite every line in the movie. …I think it was a lot of people's first guilty pleasure." That sounds right—though we might debate the "guilty" part.

TWEEN SPIRIT
THE GOONIES
Although Steven Spielberg only produced and got a "story by" credit on this sugar-powered kids' action-adventure, his sentimental tween outcast spirit is imprinted on every scene. In case the words "Truffle Shuffle" mean nothing to you, the film follows a group of pint-size scaredy-cats (plus a young Josh Brolin) who hatch a scheme to save their neighborhood from developers by hunting for a pirate named One-Eyed Willy's buried treasure. A box office hit upon its release, The Goonies has enjoyed a long afterlife as a generational touchstone and a beloved '80s classic.

HE SCORES!
FLETCH
Using Gregory Mcdonald's series of sunshine-noir novels as its springboard, Fletch told the hilariously twisted tale of a reporter named Irwin M. Fletcher who's hired by a millionaire to murder him. Of course, since the film starred Chevy Chase, the hardboiled plot not only took countless detours, it was totally beside the point. Chase had already proven to be a bankable leading man with Caddyshack and National Lampoon's Vacation. But nothing had prepared fans for Fletch's arsenal of aliases and indelible sarcastic one-liners ("It's all ball-bearings nowadays"). Thirty-five years later Fletch is what you throw on when you want peak Chevy. It's the fastest, loosest and most quotable character he ever played.

ACTING THEIR AGE
COCOON
Like The Golden Girls, which first popped up on the small screen the same year, Ron Howard's Cocoon was proof that not every successful facet of Hollywood's entertainment industrial complex had to be pitched at the 18-49 advertising demo. A bittersweet fairy tale about a group of Florida senior citizens who find the fountain of youth in podlike form at the bottom of a swimming pool, Cocoon was more than just a sci-fi fantasy ripped from The Twilight Zone. Thanks to a mature cast that included Jessica Tandy, Hume Cronyn, Wilford Brimley and an Oscar-winning Don Ameche, it was a gentle and moving meditation on death, aging and second chances.

FLAG BEARERS
RAMBO AND ROCKY
In 1985 America was in love with Sylvester Stallone and Sylvester Stallone was in love with America. In the lethal one-two blockbuster punch of Rambo: First Blood Part II and Rocky IV, the star took patriotism to new jingoistic heights. In the follow-up to First Blood, his psychically scarred war veteran John Rambo returned to the jungles of Vietnam to rescue American POWs. As the pugilistic Italian Stallion Rocky Balboa, he draped himself in the Stars and Stripes and knocked out a chiseled, emotionless Soviet killing machine named Ivan Drago (Dolph Lundgren), who had fatally beaten Rocky's rival-turned-best-friend Apollo Creed (Carl Weathers) in the ring. No wonder even President Ronald Reagan came out as a fan.

LIVIN' LARGE
PEE-WEE HERMAN
The manic, nerdy alter ego of actor and comedian Paul Reubens, Pee-wee Herman was one of the most curious pop culture sensations of the '80s: A giddy man-child in a too-small gray suit topped by a bow tie, a buzz cut and a boundless barrage of "I know you are, but what am I?" comebacks. Originally created by Reubens while performing with the Groundlings, the character made his big-screen debut in director Tim Burton's candy-colored 1985 fantasia Pee-wee's Big Adventure—an infectiously innocent road comedy about a lovable oddball on a cross-country odyssey to find his stolen bicycle. Both wafer thin and wildly inventive, a star was born, leading to the beloved TV show Pee-wee's Playhouse a year later.

NO MOORE
A VIEW TO KILL
When Roger Moore stepped into the tux to play James Bond in 1973's Live and Let Die, he was already 45. Seven films later he was 58 and looking a bit long in the tooth for a license-to-kill secret agent. Moore had always been a campier Bond than Sean Connery, but he turned out to be the right man to steer the 27-film franchise through the big-shoulder-pad decade. With 1985's A View to a Kill, Moore would take his final bow in an appropriately tongue-in-cheek tale about a megalomaniac (Christopher Walken) out to destroy Silicon Valley. Between Grace Jones's supremely stylish henchwoman and a chart-topping title song by Brit-pop superstars Duran Duran, it's hard to imagine a more '80s swan song for Moore's devilish, dapper 007.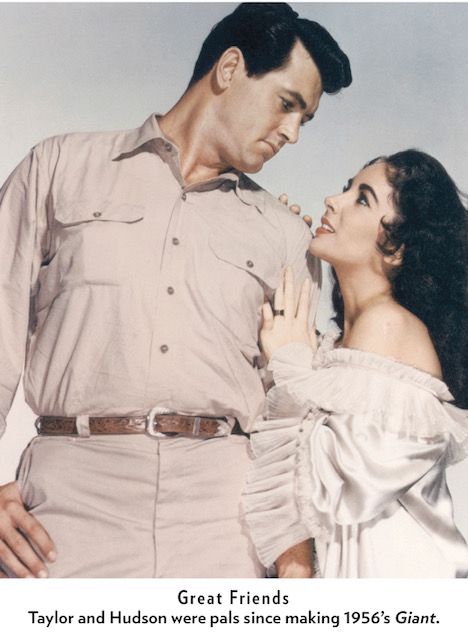 AIDS IN HOLLYWOOD
ROCK HUDSON & ELIZABETH TAYLOR
HE WAS THE FIRST MOVIE STAR TO ADMIT TO HAVING AIDS. SHE WAS THE FIRST TO DEVOTE HERSELF TO FIGHTING IT

His professional name, like his impossible good looks and deep purr of a voice, seemed chiseled from granite. It's no wonder he so often got the girl in his movies. He was leading man to Elizabeth Taylor in Giant and a romantic foil for Doris Day in Pillow Talk and other comedies. His chemistry with Day was so bankable, publicity folk tried to link them offscreen. But Rock Hudson had always kept his private life private. Then, in the summer of 1985, that changed. On July 15 he attended a press event for a TV show starring Day, still a close friend. Hudson had been on Dynasty just the year before, but now his gaunt appearance shocked. Soon after, from a hospital in Paris, he let go some privacy to share an important message: He had AIDS. It is hard to overstate the impact of the announcement; to that point President Ronald Reagan had never publicly spoken the word "AIDS." Ten weeks later, on Oct. 2, Hudson, 59, died from complications of the disease at home in Beverly Hills. While the fact that the actor was gay had been an open secret in Hollywood circles, many who knew only his chiseled image did not easily square with the information. "Death, in short, has not been kind to the ex-postman from Winnetka, Ill.," People wrote of Hudson, born Roy Scherer Jr. "It has transformed him from the most reticent into the most famous of homosexuals." The magnitude of his celebrity helped shift attitudes. Days after his death, Congress set aside $221 million for AIDS research. But some in Hollywood had shunned Hudson following his revelation—without an understanding of how the virus spreads, they questioned his decision to keep working. But close friends stood by. Among them Elizabeth Taylor, who sneaked into his hospital room. "She was a little nervous about seeing him for the first time because she knew how sick he was," Hudson's doctor Michael Gottlieb told People in 2015. "She asked me if it was okay to hug and kiss him. She was worried about his immune system. Not hers." After his death, Taylor planned a memorial at Hudson's home with mariachis and margaritas—touches she knew he'd have loved. But she was just getting started. With $250,000 earmarked in Hudson's will, she cofounded the Foundation for AIDS Research (amfAR), which would channel millions of dollars to combat the disease. When Taylor died in 2011, her legacy included her tireless work on behalf of her old friend and countless victims like him.