Eureka Lewis | 3RY Editor-at-large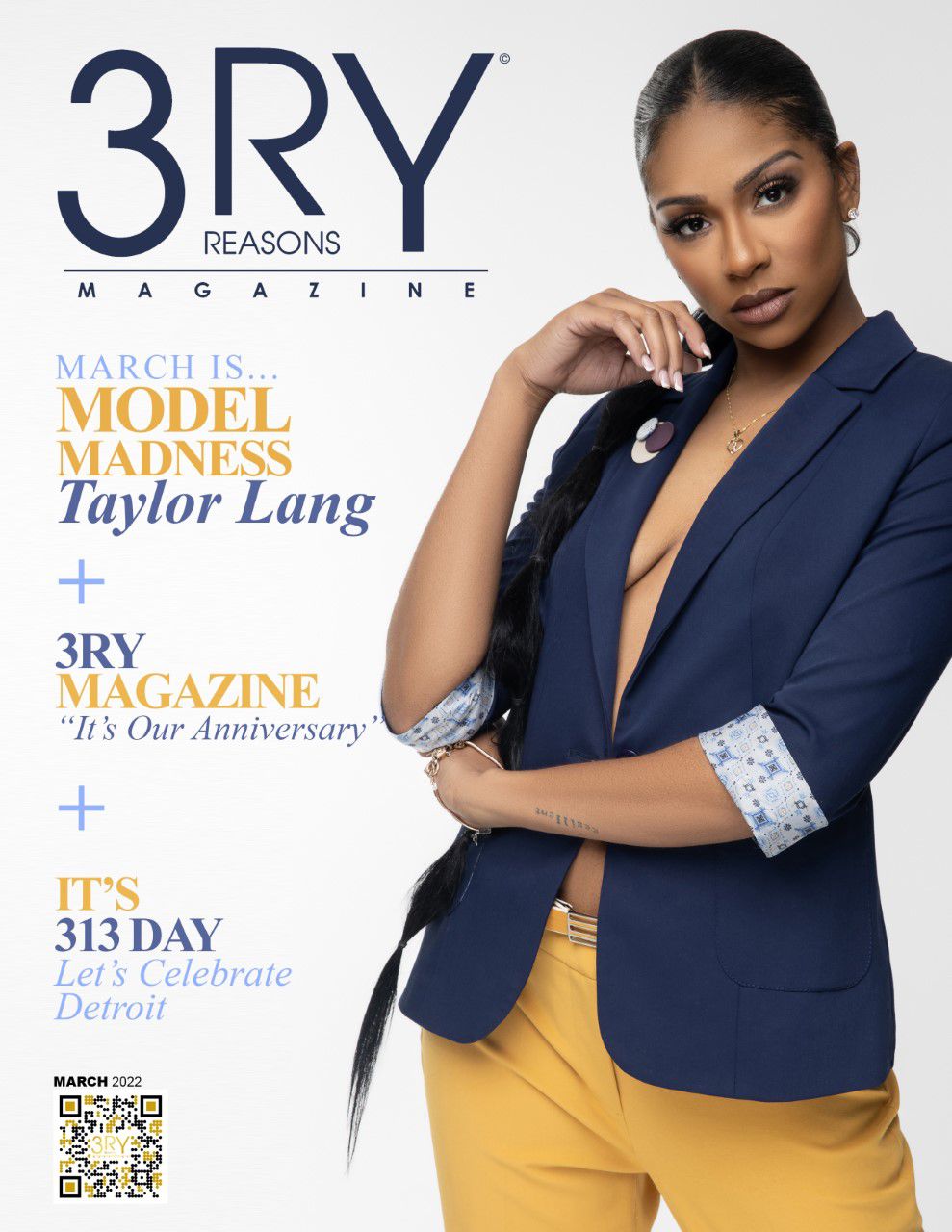 Cover Photo:
Model: Taylor Nicole Lang
Wardrobe by: Mel Styles
Hairstylist: Marlisha Bentley of Royal Privilege
Makeup Artist: Rag Doll Vanity Studio
Photographer: RT Studios
Location: CJ Heart Studios
Have you ever been in a room full of people, yet your eyes are somehow drawn to one individual? They have a presence about them that inexplicably commands attention. Taylor Lang, is often that person. This confident young woman is more than just a pretty face. In addition to being a freelance model, she's the Founder/CEO of the Taylor Lang Company.
Through her organization, the youth are encouraged to embrace their talents, dreams and creativity. She's quick to express, it's more than just a place to learn modeling. It's an environment that fosters the importance of confidence, etiquette, speaking and belief in one's self. She works with children who're very young, up to the age of eighteen. They not only learn the aforementioned skills, but they consistently apply them in their everyday lives, and various opportunities. Opportunities such as fashion shows, performances, orating, print work etc. They're equipped with the tools to make a mark in the world.
From the time she was a child, Taylor was different. As an adolescent, she had a very fashion forward sense of style. Without hesitation, she'd add her own unique spin to her clothes and footwear. She recalls embellishing the heels of her shoes, in an effort to jazz them up. People were extremely impressed with her creativity, but for her it was simply second nature. Taylor's style is/was greatly influenced by her fashionable and eloquent mother, who always stressed to her; character is what matters the most. The now retired Detroit Public School Principal impressed upon her daughter; what's on the inside, greatly contributes to how you're viewed on the outside. One's heart, should align with the persona and image they present. She'd periodically have Taylor demonstrate to the students at her school, skills such as good posture, walking or speaking with confidence. Taylor also assisted the girls with their attire, and age appropriate makeup. She thoroughly enjoyed being a role model.
Upon graduating from high school, Taylor attended an HBCU; the historical Clark Atlanta University. She was later signed as a model. It didn't diminish her love of working with the youth. Doing so, gave her great fulfillment, because it allowed her to contribute to their success. She wanted to see them win! In 2015 she established her company, and began pouring her heart and time into it. Her work wasn't in vain, because in 2019 a huge dream of hers was realized. It's the year she officially opened her own studio on the East Side of Detroit.
Taylor considers it an honor to make an impact on young lives, through providing them with mentorship. Having a designated place to do so, is an even greater blessing. She's always excited to hear about her student's accomplishments. It doesn't matter whether it's phenomenal photo shoots, oratorical presentations, talent shows or modeling jobs. As long as they're progressing, and applying what they've learned at Taylor Lang Company…she's happy. Their strides serve as confirmation, she's operating in her calling.
3RY kicks off March Madness, by spotlighting this talented, innovative and gem of a young woman, who graces our cover. We sat down with her, to get her responses to three impromptu questions. She answered each of them without hesitation.

You're a prime example of someone living their dream. As a successful entrepreneur, what advice would you give others desiring to make their dreams a reality?
First off, I would tell them to be diligent when working towards their goals. It may not be easy, but if it's what you truly want, diligence is necessary. No matter what, I always stick with what I'm passionate about. I'd also tell them they should be consistent. Consistency requires discipline, but it can make all the difference. Aside from talent, those are the two qualities that have worked well for me.
What do you love about Detroit?
That's an easy one! There's so much I love about Detroit, I could practically write a list...but what immediately comes to mind, is the talent. This city is loaded with unique talent...people who have undeniable gifts. We simply have to be in a position to execute and demonstrate them.
What's on the horizon for you?
I plan to continue working as a freelance model, of course. Thankfully, I book fashion shows, shoots and speaking engagements. I have an upcoming gig in Chicago, that I'm really looking forward to. Most importantly, I'll continue working with the youth via Taylor Lang Company, and providing mentorship.
Taylor Lang's dedication to her craft, the city of Detroit and the youth...is what it's all about! She's making us proud! The following quote by Madam C.J. Walker, best describe what she's doing.
"Don't sit down and wait for the opportunities to come. Get up and make them".
Modeling Agency | Taylor Lang Company
Instagram: @taylorlangcoofficial