Designer Yuhan Wang
Yuhan Wang
"I never wanted to have my own business because I felt like that would mean working 24-7, having to think of everything," says Yuhan Wang, 30, who started her namesake fashion label almost against her will. "Especially for a young designer without much money, it just sounded too hard." After she earned her master's from London's Central Saint Martins in 2018, her dream of a career behind the seams appeared to be on track. She scored a coveted women's wear post at Marni and moved to Milan. But fate—and the Italian immigration authorities—had other plans for her. "I couldn't work without a visa, and after more than three months, I was still waiting," she remembers. Out of an itchy sense of idleness, she decided to take fashion consultant Lulu Kennedy up on her offer to join Fashion East, the London-based nonprofit that provides young designers with financial support and the opportunity to show during that city's Fashion Week. The only wrinkle: She had just three weeks to pull together a collection.
Model Judan in a pair of Yuhan Wang Earrings & in a dress from the Designers latest collection

"I didn't think about it too much—I just did it," Wang said. "And afterward, buyers called to ask where they could see the clothes, and I had no idea. It's not like I had a showroom." Eventually, she scored a space in Paris and, because she was still without a visa and thus unable to travel, persuaded a friend of a friend to sit in for her. H. Lorenzo in Los Angeles put in an order, and soon after, Dover Street Market came calling. This past January, almost three seasons in and tired of commuting between London and Milan—she did eventually score that visa—she left Marni and committed herself to her label. "I can't say it has been easy," she says of her solo turn. "But I'm learning and growing more than I ever expected."
Looking back on Wang's collections, you have to marvel at her prescience. Spring 2019, for instance, was called Women Indoors, an eerie foreshadowing of the future lockdown. Fall 2020, which debuted a month before Covid-19 was declared a global pandemic, was inspired by death—or, to be more specific, Victorian mourning attire. Invitations were modeled after 19th-century funeral notices, and black lace showed up in dresses, capelets, and a veil. But despite such weighty themes, Wang's clothes are the very opposite of heavy. Unapologetically romantic, her collections flounce with sweeping skirts and puffed sleeves, sheer ruffles, and floral prints galore. It's not a great surprise, then, to learn that, growing up in the seaport city of Weihai, near China's northern border with South Korea, she first fell in love with fashion through playing dolly dress-up with her sister and obsessing over historical TV dramas.
There's something very English about Wang's aesthetic: a slightly roughed-up and exaggerated version of the Merchant Ivory garden-party look. But, she points out, her Chinese sensibility is always part of the equation. "It's the mix of Eastern and Western elements that I like," says Wang, who, though she plans to remain London-based, showed her spring-summer 2021 collection during Shanghai Fashion Week in October, since authorities there gave the green light for in-person presentations. "This season, for example, I did prints of goldfish swimming in water grass. In China, that's a symbol meant to bring good fortune."
Model Emmanuelle Loca-Gisquet in a dress by the designer Nensi Dojaka
Designer Nensi Dojaka
Photographed by Charlie Gates. Nensi Dojaka: hair: Sophie Jane Anderson for Kevin.Murphy at Future Rep; makeup: Vass Theotokis for MAC Cosmetics at Streeters; model: Emmanuelle Loca-Gisquet; photo assistant: Tommy Francis.
Designer Dilara Findikoglu in a dress of her own design


Dilara Findikoglu
Even amid the eternal high drama of the fashion world, designer Dilara Findikoglu stands apart from the crowd. For one thing, there's her personal style: Think copious cleavage, shredded Victorian garb, Joan Jett makeup, and loads of tattoos. Then there are her over-the-top shows, which are so deliberately provocative—mixing together religious -iconography, zombie contact lenses, sexy-punk frocks, splashed faux blood, and the occasional witch hat or devil's horn—that right-wing loony Alex Jones of Infowars (not exactly known for his runway reviews) felt compelled to denounce her spring-summer 2018 presentation as a "satanist orgy." And, of course, there are the clothes themselves: Suffice it to say, Lady Gaga is a fan.
Growing up in Instanbul, in a family she describes as "very traditional and quite narrow-minded," Findikoglu read a profile on John -Galliano in a magazine and decided immediately that studying at Central Saint Martins, his alma mater, was, in her words, "the only option for my life." Though her parents were aghast at the idea, they'd been worn down by years of rebellious behavior. "I got my first tattoo at 14," says Findikoglu, who is now 30. "I was a goth at some point, and then I was emo. So I said, if you don't let me go to Saint Martins, I will go anyway. And that's how I came to London."
The move, however, did nothing to soften her antiestablishment worldview. She found school stifling, with "teachers who were trying to control you," she says. Maybe she shouldn't have been surprised, then, when, at the conclusion of her B.A. program in 2015, she wasn't chosen for the school's prestigious press show, where 30 or so of the most promising students showcase their work in front of an audience of editors, buyers, and talent scouts. "I was like, Okay, I have to do something about it," she says. So she teamed up with friends to organize a silent protest. Students, accompanied by models dressed in their overlooked collections, stood outside the doors of the university-sponsored show, ensuring that the audience would have to walk past them. "We ended up getting more attention than the press show," Findikoglu says with obvious glee.
Designer Thebe Magugu and his team

Thebe Magugu
Much has been written about the Internet's power to globalize style. But it's worth noting that before there were live-streamed runway shows, before there was Style.com, before e-commerce was even a thing, there was FashionTV. The satellite television station, founded back in 1997, brought couture catwalks and backstage interviews into glamour-starved living rooms from Toledo to Timbuktu. And for Thebe Magugu, 28, who in 2019 became the first African designer ever to win the über-prestigious LVMH Prize for Young Fashion Designers, that access was akin to a minor miracle. "I will never forget the day, when I was about 7, that we got satellite television," says Magugu, who grew up in Galeshewe, a historically segregated township within the South African mining city of Kimberley. "My mom had saved up for it, and the very first thing that came on when the installer hooked it up was FashionTV. It was a Marc Jacobs for Louis Vuitton collection full of jewel-colored duchesse satin dresses. At that moment, I knew I wanted to go into fashion."
Though helped along by the satellite signal, -Magugu's childhood dream didn't come from outer space. While Kimberley is in many ways a world apart from Paris, the city, says Magugu, is notable for both its beauty (lush greenery, flocks of shocking pink flamingos) and its problems (gang violence, intense poverty, crime). He'd grown up the only child of a single mom completely obsessed with clothes. "My mother is a true chameleon," he says. "She creates characters for herself through her clothing and has all of these funny style rules for herself, like she can't wear high heels without carrying a bag, because the aerodynamics don't work. You can imagine that growing up seeing someone playing like that made a big impression."
Model Ponahalo Mojapelo, in a jacket and pants by the designer

Though his mother was wholly in support of his fashion dreams, sending her son abroad to Central Saint Martins or Parsons wasn't in the cards financially. Instead, Magugu moved to Johannesburg and enrolled in the fashion program at LISOF, from which he graduated in 2015. After a brief, creatively stifling stint in the design department at Woolworths—the country's biggest retailer—he struck out on his own. "It was extremely premature," he says of establishing his namesake label. "I couldn't afford rent. I couldn't do anything. But I was just so happy making clothes."
That joy came through, both in his bright, impeccably tailored creations—many of which reference South African history and the rituals and ceremonies of his tribal heritage—and in the Instagram shoots he orchestrated with friends. The organizers of South African Fashion Week took notice, and in 2017, Magugu was offered a spot on their calendar, with generous sponsorship—in a full-circle twist—from none other than Woolworths. In 2019, he won the International Fashion Showcase, which provides mentorship to young designers from around the globe and spotlights their work at London Fashion Week. And on the very day he scored that award, he found out that he had made the finals of the LVMH Prize, which, of course, he went on to win. The 300,000 euro purse has enabled him to weather the storm of Covid-19, as has the fact that he produces everything in South Africa. In September, he was back to work in his studio and about to launch his own e-commerce site. His mother had finally been able to come visit, for the first time since February—a seriously joyous reunion that came with one small downside. "As soon as she walked into the studio, she pushed me out of the way, collected all of the samples from the rail, and convinced my staff to alter them for her on the spot," he says, laughing. "I'll never get those clothes back, but they make her so, so happy."
Photographed by Imraan Christian. Styling: Amy Zama; hair and makeup: Alex Botha; model: Ponahalo Mojapelo.


Designers Laura Lowena (left) and Emma Chopova

Emma Chopova
Emma Chopova and Laura Lowena, both 29, have an unusual formula for dreaming up new collections. Take one part traditional costume, add details borrowed from an esoteric sport, and filter the result through the lens of two London-based besties with advanced fashion degrees (Central Saint Martins) and top-notch atelier training (John Galliano, Alexander McQueen, Lanvin). The idea started with their 2017 master's collection, which they produced as a duo, using traditional tartan aprons from Emma's native Bulgaria, accented with bits of 1980s rock-climbing gear. The luxury e-tailer MatchesFashion bought a grouping of their hand-stitched skirts—which resemble punky kilts, with mismatched plaid textiles held together by buckles, carabiners, and other hardware—and they sold out in a day, convincing the recent grads that they had to set up proper production.
In the five collections they've presented since, they've explored such unlikely mash-ups as -Victorian British silhouettes with skydiving, and Albanian garb with equestrian vaulting. "For that collection, I got to stand on the back of the horse!" enthuses Chopova, who immigrated to the States from Bulgaria with her family at the age of 7 and grew up in New Jersey.
Model Megan Park, wearing an outfit and accessories from Chopova Lowena
On visits back to Bulgaria, Chopova became enamored with the traditional costumes of the country. "Every year, we'd go to an antiques store and buy one of these amazing vintage aprons," she remembers. "They're so special, because they're handwoven. Every woman in Bulgaria used to have a giant loom in the house, and there were different plaids for various parts of the country, and embroidered symbols added for luck and protection." She took to wearing the one-off pieces to school, and when, at Central Saint Martins, she was tasked with defining her identity as a designer, the aprons topped her list of sartorial touchstones. Lowena, who grew up in Somerset and met Chopova during her first year of B.A. studies, quickly saw the garments' handmade appeal. "I've been obsessed with knitting and sewing and making things for as long as I can remember," she says.
The pair, who founded their label straight out of school, have financed their business in part by winning a series of lucrative, high-profile prizes (H&M, Samsung, L'Oréal, OTB). And though the 2020 LVMH Prize was suspended in the last round due to the pandemic, their share of the 300,000 euro purse, which was split among the eight finalists, got them through to their next collection, spring--summer '21. The inspiration this time: Romania and roller derby. "Romanian costume is one of our favorites, because it's still being worn, and it's actually quite modern—synthetic and vibrant, with lots of Western influences and secondhand clothing in the mix," Chopova says. "And roller derby goes really well, because they both have this overly feminine thing going on. They share a really fantastic tackiness."
Photographed by Charlie Gates. Chopova Lowena: hair: Sophie Jane Anderson for Kevin.Murphy at Future Rep; makeup: Vass Theotokis for MAC Cosmetics at Streeters; model: Meg Park; photo assistant: Tommy Francis.
Designer Priya Ahluwalia


Ahluwalia
A recycling center is not typically a font of sartorial inspiration, but for Priya Ahluwalia, 27, a 2017 visit to Panipat, India—a city known for producing yarn from discarded clothing—set the tone for her men's wear label. "Once I saw how much we actually throw away, I knew we had to concentrate on working with recycled materials and clothing that already exists," says Ahluwalia, who collected her photos from that trip—as well as from a visit to Lagos, Nigeria, where sporting secondhand clothing discarded by Europeans is the norm—into a book, Sweet Lassi, which was released in 2018. By incorporating secondhand and vintage pieces into her line, she hopes to both chip away at the existing mounds of KonMaried clothing and prevent new ones from growing. "Because the materials are always slightly different from piece to piece, every item I design is one-of-a-kind," she says. "I hope that will encourage people to hold on to my clothes forever."

Growing up in London, the daughter of a second--generation Indian-British mother and a Nigerian father (with a second-generation Jamaican stepdad also in the mix), Ahluwalia first became aware of clothing's ability to, in her words, "make people feel something" through a fixation on music videos. "As a kid, I was always watching MTV Base," she says, referencing the U.K.'s hip-hop–focused cable station, "and as much as the music, I was analyzing the clothes." She earned her M.A. in fashion at University of Westminster, focusing on men's wear because, she says, "men have been wearing basically the same thing for 50 years. I like the idea of trying to push their boundaries and get them to experiment."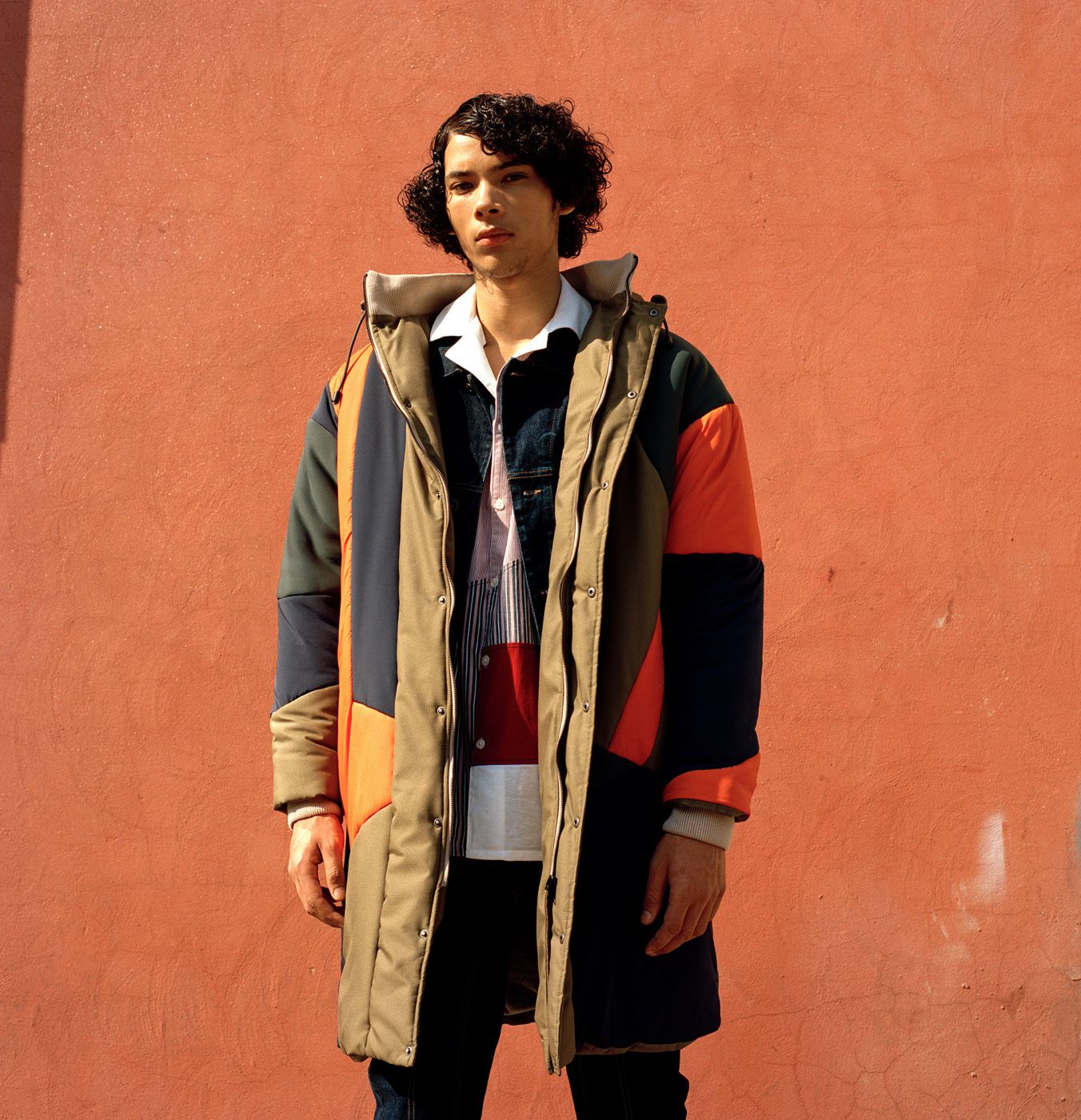 Model Akeem Osborne, wearing an Ahluwalia coat, denim jacket, shirt and jeans
Her line, Ahluwalia, does just that, reworks old-school sporty streetwear and pieces from a traditional men's wardrobe reminiscent of her favorite vintage Missy Elliott videos (hoodies, puffer jackets, color blocking) with wild patterns, patchwork details, and graphics derived from her love of art across the -African and South Asian Diaspora. For spring 2020, for example, she made prints out of old family photos, with her grandfather's face turning up on the thigh of a pair of reconstructed Levi's, and childhood pictures of saucer-eyed cousins gracing a pair of wildly colorful trousers. Her relatives' reactions? "They just find it weird, honestly," she says, laughing. "And some of my family in India was like, Where's my royalties?"
Her desire to brighten up the men's wear market comes naturally, she says. "My idea of what vibrant men's wear means is different from Eurocentric ideas, because here men wear much plainer clothes than they do in India or in Nigeria. So when I'm making graphics, I use all the colors. That doesn't happen in the U.K., but I'm trying to make it happen. People here need to cheer the eff up!"

Photographed by Adama Jallo. Ahluwalia: hair: Lauraine Bailey for Glam Sculpt; makeup: Francesca Daniella; model: Akeem Osborne at Select Model Management.