Experts share ideas for navigating a lack of storage space.
If you (like me) live in a tiny studio apartment, or if your home is just short on storage, you're likely always wondering where to keep your clothes. When you don't have giant walk-in closets like the mega-rich people on reality TV shows, you need to get creative about your storage — and one way to do this is by stashing away your un-seasonal clothing when temperatures begin to change.

"When you don't have a lot of closet space, putting out-of-season clothes away makes it a lot easier to keep track of what you have for each season," Catie Kelly, founder of Sistamatic Organizing, told HuffPost. "An overstuffed closet is so much harder to keep tidy!"

When preparing for seasonal storage, Kelly, who organized former "Real Housewives of Atlanta" star Porsha Williams' current home, encourages you to think outside your closet. "Take advantage of vertical spaces like walls and doors, and store as much as you can underneath couches and beds," she said.

And although it may hurt to hear, she also suggests doing a major clothing purge. "Decluttering is the most important step in any organizing journey, but it's especially vital when you don't have a lot of storage space," Kelly said. "The more aggressive you are about editing your belongings, the easier it is to get organized and stay organized."

Ruth Shafer, a tidying expert and certified KonMari consultant, concurred. "No amount of storage hacks or fabric bins or space savers will bring relief if your closet is full of items that make you feel guilty or not cute," Shafer said. Once you nail down the clothing you love and wear the most, you can strategically decide where to put it all.

Haleema M. Burton, owner of Jillian & Leigh Home Organization, said seasonal changes are the perfect prompt for a closet clean-out. "Taking the time to go through the process of storing your out-of-season clothes gives you a chance to assess your current wardrobe to see what you want to keep, donate or purge," Burton told HuffPost, "while also helping you pre-plan your wardrobe needs for the next season."

To help you find calm in your closet and to make storage seamless for your small space, Kelly, Shafer, Burton and other organization and wardrobe experts shared some of the best ways to organize your clothes. While some, like Burton, advocate for a full seasonal rotation of your closet, others, like Shafer, recommend keeping all clothing visible and together at all times — but they all suggest taking your time to find an organization method that you'll actually stick to.

HuffPost receives a share from purchases made via links on this page. Every item is independently selected by the HuffPost Shopping team. Prices and availability are subject to change.
1. Maximize your furniture
Mix clothes with your home decor
"Think out of the box with your furniture," said Alison Bruhn, wardrobe stylist and co-founder of The Style That Binds Us . "Mix books and decorative objects with shoes, boots, sweaters, baskets and bags."

Bruhn suggests finding useful pieces like this 12-compartment cubby to display your off-season clothes and shoes along side your plants or knick-knacks, making them part of the interior design of your space.

$129 AT WALMART

Snag a bench that's not just a bench
Though a trunk may sound like something you'd haul on a covered wagon, Bruhn says they're actually great, timeless pieces that can store off-season items with ease.

"Invest in a chest, trunk or ottoman that has storage inside," she suggested.

This bench trunk has a padded leather top, with metal sides and a dark wood finish. Put it at the foot of your bed or near an entryway to create a space to put on shoes and hold all your off-season basics.

$113.99 AT AMAZON

Or a coffee table that's not only a coffee table

If you live in a studio apartment or just want to conserve space, Bruhn recommends finding coffee or end tables with hidden storage, like this circular ottoman with a removable wooden top. "These pieces of furniture can serve multiple purposes — [they] can hold sweaters inside and also be used as a coffee table," she said.

$269.99 AT AMAZON

Swap to a bed frame with built-in drawers
"You can invest in a bed that has storage built into it, like this one," Bruhn says. This minimal queen platform bed frame has three spacious drawers to hold out-of-season clothes.

$319.99 AT WAYFAIR
2. Use vertical space
Let your storage hang out

Burton's best tip? Utilizing vertical space. "We don't often think about how much space is wasted by just using horizontal space," Burton said. "Rethinking your space by going vertical increases your storage capacity."

Burton recommended this six-shelf hanging unit with brown detailing. It can hold up to 40 pounds and comes with three pull-out drawers. "Don't let vertical space go to waste," she said. "Utilize the height of your space with hanging storage shelves with drawers."

$36.99 AT TARGET

Use whatever doors you have

You may not have closets, but you likely have a door, whether it's for the bathroom or the entryway to your spot. Jessica Gelvin, founder and CEO of Space and Soul home organization, says this is often an overlooked storage space.

"I love using back-of-the-door hanging options like this one," Gelvin said. "This [method] hides your things in plain sight and keeps them easily accessible without creating an eyesore."

Kelly also suggested choosing over-door storage with mesh or clear sides. "Clear fronts make it easy to see what's inside," she said.

MESH SIDES: $21.49 AT AMAZON

CLEAR SIDES: $20.97 AT AMAZON

Grab a standing clothing rack with drawers

If you have the floor space for a pop-up closet situation, Brun recommends this clothing rack-drawer combination from Wayfair, which lets you keep your favorite blouses or shirts visible and also has tucked-away drawers for things like socks and underwear. This rack has storage space on the top and bottom, so you can easily rotate the pieces you wear during seasonal changes.

$265.99 AT WAYFAIR (ORIGINALLY $339.99)

Install a hanging clothing rack

If you don't have the room for a whole standing clothing rack, Bruhn suggested installing a wall-mounted hanging rack. This keeps things off on the floor, and maximizes the way you use your wall space.

$36.99 AT WAYFAIR (ORIGINALLY $58.99)

Reach for the stars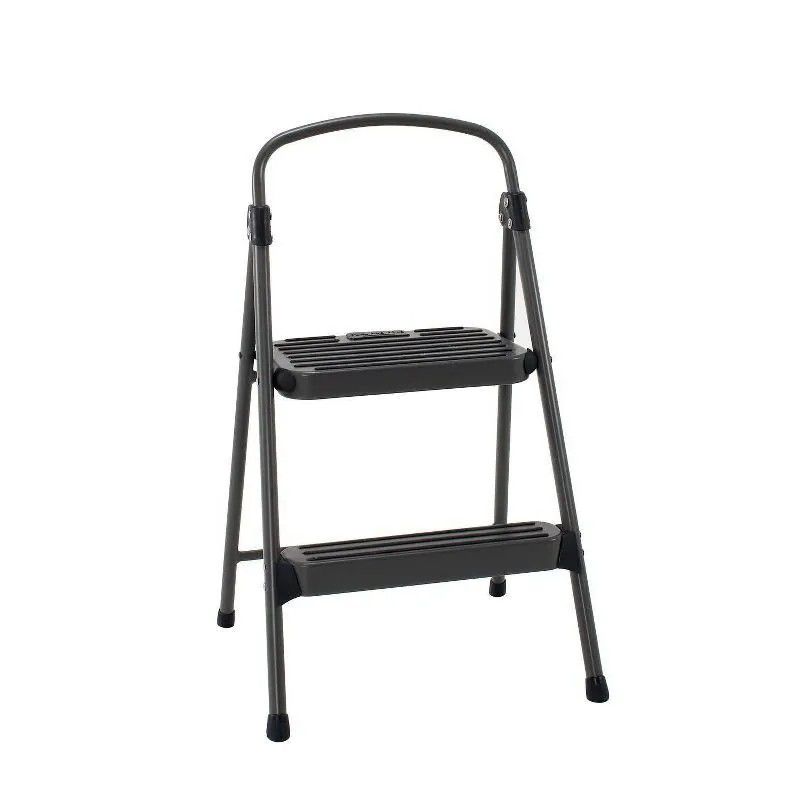 If you're going to be storing things in higher places, Burton encourages you to make hard-to-reach places as accessible as possible. "A 2-3-step ladder is a very useful tool when maximizing your space when going vertical," she said. "It helps to keep the storage accessories that are in higher places intact [and] in place instead of them falling or being placed on the floor."

$25.99 AT TARGET

Lift your bed

Your bed takes up a lot of room, so you might as well use it for storage. Kelly recommends these 7.25-inch bed risers that come with outlets and USB ports for easily charging your devices or plugging in a bed lamp.

"If your bed is too low to the ground to store things under it, bed risers like these will give you more height to work with!" she said. "If you don't want to see all that stuff underneath, a bed skirt is a good option."

Kira Coopersmith, proprietor of Sensible Sort Professional Organizer, suggested wooden risers that have a warm, homey feel.

RISERS WITH OUTLETS: $40.85 AT AMAZON

WOODEN RISERS: $26.04 AT AMAZON
3. Think inside the box
Make the most of your drawers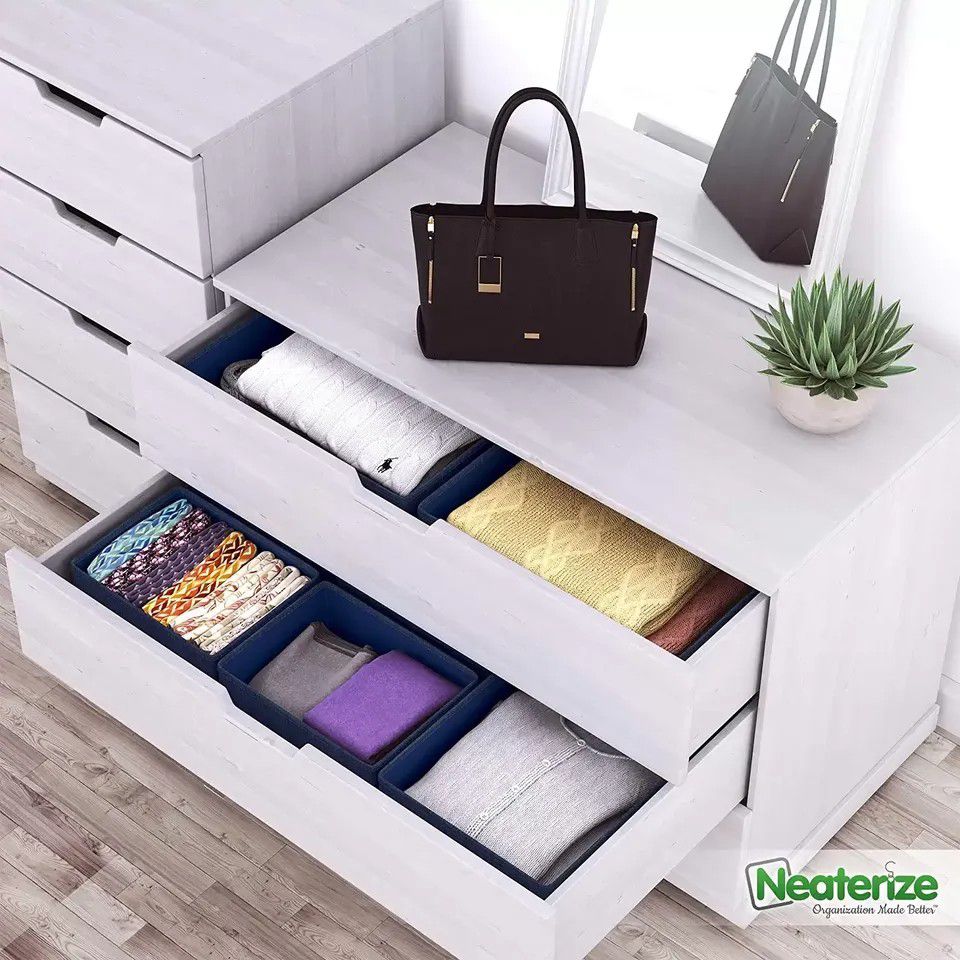 Rather than storing off-season clothes in different parts of your house, Shafer suggested bringing extreme organization to your drawers, which allows you to rotate items as needed while still keeping all your clothing in one area. She recommended setting shallow, straight-sided lidless boxes within your drawers (or wherever you keep your folded clothes) to best utilize the space.

"The purpose of storing clothing like this is so you can see everything you have, and so that nothing gets squished, forgotten, or wrinkled," she said. "I rotate my warmer pieces to the front of the drawer in winter, and lighter pieces to the front in summer."

This set of fabric organizer drawers comes in a set of 12 in eight colors.

$21.96 AT AMAZON

Stay in the clear

When you don't have closet space, storage bins are your best friend. Yet, opaque fabric or dark plastic bins can be an invitation for chaos. "Clear storage bins are a great organizational tool because they allow you to maximize storage space while keeping your items visible," Burton said. "Consider using 2-3 clear storage bins on your closet floor or a shelf. Be sure to label them."

Burton recommends these windowed fabric boxes from West Elm. The canvas fabrication makes them look homey, but clear siding allows you to identify your clothes.

Gelvin echoed the need for visible storage, and recommended clear, stackable boxes with durable, latched lids (like these 5-quart ones from Iris) to keep your items protected.

"As someone who thrives with ADHD, I realized a while ago that out of sight truly meant out of mind," Gelvin said. "When I store anything, it is easily accessible and identifiable. This works great for neurodiverse people like me, but it works great for neurotypical people as well because everyone benefits from a space that feels orderly. It helps reduce anxiety when you know where and how to find what you're looking for."

CANVAS BOX: $17.30 AT WEST ELM (ORIGINALLY $35)

PLASTIC STORAGE BINS: $42.29 AT AMAZON

Vacuum-seal bulky items

"Vacuum storage bags are a lifesaver for storing bulky things like coats," Kelly said. "Once you suck the air out of the bag with either a vacuum or the included hand pump, even the fluffiest parka will be basically flat. They come in different sizes, so this variety pack is a good pace to start if you're not sure what sizes you need."

Gelvin also recommends vacuum bags for seasonal storage, noting they can help organize linens and bulky bedding. "You can store a lot more in a much smaller space using these bags, and they will also do a great job of protecting your sensitive fabrics from the elements during the storage season," she said.

These Space Saver bags come in five sizes and include a hand or electric pump to help you vacuum seal on your own.

$32.99+ AT AMAZON

Roll your stuff out of sight

"For those who don't already use the storage space under their beds, I highly suggest these under-bed rolling bins," Gelvin said. "There's a bit of childlike fun that comes with rolling them out and flipping them open, and they make use of a space in your home that might otherwise be wasted or collecting dust."

This rolling bin from Target has a latching top that's able to stack with other bins.

$24.99 TARGET

Store sweaters in a breathable fabric bin

"Most sweaters should be folded rather than hung in the off-season," said Coopersmith. She recommended storing knitwear in durable fabric bins — like this gray container from Target — instead of plastic ones. "I think they do better in a fabric container (plastic can sweat) although you may need to use cedar balls inside the container to ward off moths and the like," she explained.

$14 AT TARGET
4. Streamline your closet
Save space with hangers

Your daily clothing space may contain a collection of old, mismatched hangers in different sizes. Gelvin said that this is likely a bit of an eyesore, and is taking up more space than it needs to.

"Ditch the old plastic hangers and get some matching cute hangers," she said. "They help make your hanging space look more streamlined."

Creating more room in your closet means there's more space for all of your clothes, and it's easy to rotate seasonal pieces.

$39.42 AT AMAZON

Embrace hook-up culture

Looking for something that keeps your favorite pieces within reach while adding a little flair to your walls? Embrace the hook life. Both Shafer and Gelvin recommend placing hooks around your house for attractive, all-season storage.

"Not only do they decorate your wall, you can hang your hats, your cardigans, your jewelry, or anything else you're looking to organize," Gelvin said.

Gelvin suggests finding stylish hooks from a retailer like Anthropologie.

$18 AT ANTHROPOLOGIE