via People



For the families of missing children, time brings no comfort. Whether their kids have been missing for days, weeks or even years, the pain of not knowing where a child is or if they will ever come home alive and safe is a constant ache. And each milestone that passes—a favorite holiday, the start of a new school year, a birthday—is a crushing reminder of what is lost.

The children featured here all disappeared under different circumstances, but each is endangered, says John Bischoff, vice president of the Missing Children Division at the National Center for Missing & Exploited Children. "In 63 percent of family abductions, children are harmed," he says. "And missing children who are runaways face endangerments on the street … kids can be coerced out of their homes." According to the FBI, there were some 365,348 reports of missing kids in 2020 alone, and finding them is "always the hope," says Bischoff. "No matter how short or how long the duration that a child went missing, we want to get that child home safely. Sometimes hope is all you have."



ROSALYN VELAZQUEZ
MISSING
: AUG. 28, 2020
Family Game Night Turns Tragic
The Monopoly board was out, and 15-year-old Rosalyn Velazquez told her cousins she'd play, but hours passed and the teen never joined the game. Around 2:30 a.m., mom Sabrina Boozel remembers, she told Rosalyn "she needed to go to sleep." It would be the last time she saw the teen. Rosalyn was on Instagram at close to 4 a.m. outside her cousins' Radcliff, Ky., home, where she was supposed to be spending the night, less than half a mile from her home. Police continue to search, and Sabrina believes the introverted Rosalyn will return: "I know my daughter. She's a fighter." Meanwhile, her cats Percy and Athena still yearn for the girl who adored them. "They cry and cry and cry for her," Sabrina says. Call police at 270-351-4470 with information on this case.




"She's still a child," says stepmom Sharon Russell of Asia. "We miss her."

ASIA WILBON
MISSING
: FEB 13, 2020
Gone After a Cryptic Text
A bright 16-year-old who "got nothing but A's and B's" in school, Asia Wilbon loved playing volleyball and camping with her father, Richard, and stepmother Sharon Russell near their home in Kent, Wash. But when her biological mom, Nakia Wickware, 45, unexpectedly died on Feb. 3, 2020, the teen was shattered. "I think there were a lot of questions about her mom being sick and what was going on," says Sharon. Ten days later, Asia's best friend received a text from her saying she loved him—"and she never said that before, so he was worried," Sharon recalls. Sharon and Asia's dad tried to call her from work that morning and got no response. They raced home to find her room empty—she'd taken only her phone and a house key. Neither they nor police have been able to find Asia, now 17. "I just feel like she's out there somewhere," says Sharon, "and I haven't given up hope." Call Kent Police at 253-856-5808 if you have information on this case.



LEEANNA WARNER
MISSING: 
JUNE 14, 2003
She Wanted to Say Good Night to a Friend
At age 5 LeeAnna Warner "had to be in a princess dress at all times but hated wearing shoes, even in the winter," says her mother, Kaelin Warner. "She was one of a kind." At about 5 p.m. on a Saturday, the day before Father's Day in 2003, when LeeAnna, her sister Karlee and their mother returned to their suburban Chisholm, Minn., home after a day of shopping and swimming, LeeAnna told her mom that she wanted to walk around the corner to say good night to her best friend. "It was a normal thing," Kaelin recalls. But when the little girl didn't return, Kaelin sent older sister Karlee to bring her home. "She said, 'Mommy, I can't find her,' " Kaelin says. When Kaelin went to look herself, she found LeeAnna's shoes outside the friend's house, where no one had been at home for LeeAnna's visit. A panicked Kaelin called husband Chris Warner. "Once we needed to contact law enforcement, that's when it really hit me that this is serious," he says. Almost 18 years later, authorities are still looking. "Somebody knows something," says Vernon Manner, Chisholm chief of police. "We're still hopeful." Her mom clings to that hope. "I believe," says Kaelin, "she's definitely still on this earth." Call Chisholm Police at 218-254-7915 with information.



What she may look like now



"She was a sweet angle," mon Kaelin Warner says of LeeAnna (left, and right with dad Chris). "She loved everybody."

Police still search (in 2013 with volunteers)



I'm confident we'll get an answer" says Chris (with Kaelin)
MELODY FUENTES
MISSING
: FEB. 11, 2021

"I'm destroyed," says Lucy Molina, mon to Genesis (above). "I want answers."
GENESIS FUENTES
MISSING: 
FEB. 11, 2021
A Teen Mom & Baby Missing
Being a teen mom wasn't easy for Philadelphia 16-year-old Genesis Fuentes, but she was keeping up with her high school classes—still online due to COVID precautions—and was happy her mom, Lucy Molina, 49, was helping care for baby Melody, born Dec. 10, 2020. "Genesis is a good kid, and I would stay up at night to help her with the baby, to make sure she does her school," says Molina. "She was nervous—she's so young. But she was happy." On Feb. 11, 2021, as Genesis and the baby waited in the car, Molina went into a drugstore to pick up Tylenol for Melody, who had just had her first immunizations. Another car pulled up; her daughter and granddaughter disappeared into it. Though part of the incident was captured on surveillance video, Molina says, police did not issue an Amber Alert, a decision she doesn't understand. Authorities say the case "is being investigated as a missing person and the investigation is active and ongoing." Molina suspects Genesis could be with Melody's father, but the teen is no longer attending school and has not confirmed that she and her now 4-month-old are safe. "Somebody snagged her," says Molina. "I love her. I want her back." Call police at 215-686-8477 with information.



With infant Melody
JAYLEN GRIFFIN
MISSING: 
AUG. 4, 2020
'He Loved His Puppy'
The youngest of 10 kids, 12-year-old Jaylen Griffin was known around his Buffalo hometown as a sweet boy who stayed close to his mom, Joann Ponzo, and who "loved his new puppy," she says. He and his pup had returned from a walk Aug. 4 when he told Ponzo he was going back outside: "It wasn't unusual…we live near a few stores, and he would carry people's bags; they'd give him change." But he never returned home. Just four months later Jaylen's beloved 18-year-old brother Jawaan was fatally shot, and Jaylen's absence at the funeral was devastating to the family. There have been reported sightings of the boy, police say, but he remains missing. "Someone may be holding him," says family spokesperson pastor Tim Newkirk. "His parents believe he's alive." Call police at 716-847-2255 with information.

Friends and family (at a rally) are asking for help finding Jaylen
RONDREIZ PHILLIPS
MISSING
: APRIL 5, 2018
'He Is Not Forgotten'
Just 4 years old, Rondreiz "Junior" Phillips was wearing blue jeans, a white shirt and yellow rubber boots when he went missing from his home in rural Claiborne Parish, La. When his mother, Sheila Phillips, called police to say she couldn't locate the boy, "there was a very quick and overwhelming law enforcement response," says Detective Jay Perry of the Claiborne Parish Sheriff's Office. But despite the use of aircraft, tracking dogs and dozens of volunteers, no one has been able to locate Rondreiz. Still, Perry says, the case is "very active" and the search continues with the hope that new leads could come in. "We're committed to working on this until we find him," Perry says. "He deserves that. He is not forgotten." Call police at 318-927-2011 with information on the case.

Rondreiz was last seen in this area three years ago
GABRIEL JOHNSON
MISSING
: DEC. 27, 2009
Was He Handed Over in a Secret Adoption?
As an infant, Gabriel Johnson loved playing with his mobile—"he was always smiling and laughing," his father, Logan McQueary, told People in early 2010. At the time authorities were frantically searching San Antonio for the then 8-month-old, last seen at a hotel there on Dec. 27, 2009, with his mom, Elizabeth Johnson. In the midst of a custody battle with McQueary, Elizabeth had traveled to Texas from Tempe, Ariz., and texted him that she had killed the child. When she was arrested Dec. 30, she changed her story, telling authorities she had given the boy away to a couple to raise—but refusing to give further details. In 2012 Elizabeth was found guilty of unlawful imprisonment and custodial interference. She was released from prison in 2014, never revealing Gabriel's whereabouts. San Antonio police confirm the case of the missing Gabriel—who would turn 12 this year—remains open. Call police at 210-207-7401 with information.



What he may have looked like a age 6

Gabriel's father, Logan Mcquear (above and below, at 2010 vigil), had won custody of his son when he disappeared. "You hold out hope." McQueary Says. "Spreadding the word is powerful."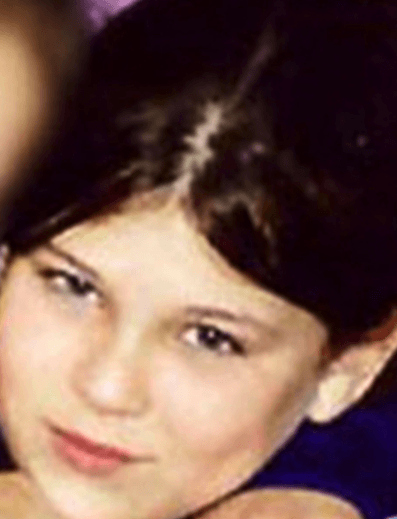 BETHANY MARKOWSKI
MISSING
: MARCH 4, 2001
A Mother's Desperate Plea
For Jonnie Carter, it seems like yesterday that she was talking to daughter Bethany Markowski, 11, who "always had a smile on her face—she had the biggest heart," Carter says. "But she's been gone longer than I had her." On March 4, 2001, Bethany's father, Larry Markowski, told police the little girl had gone into Old Hickory Mall in Jackson, Tenn., and never came out. Police say they can't confirm his account—and that the last sighting they have of Bethany was from the night before in Little Rock, some 200 miles away. "The case is still being actively investigated," says FBI special agent Cathy Ferguson. "Every lead is run all the way to the ground." Carter, who was divorcing Larry when their daughter vanished and who now lives in Nashville, continues to hold vigils, vowing she will see Bethany, who would be 31, again: "It's my focus. I will bring her home." Call the Tennessee Bureau of Investigation at 800-824-3463 or email TipsToTbi@tn.gov



What she may look like now



Jonnie Carter (above) works to bring attention to the cases of other missing kids (below, a vigil) in honor of her daugther Bethany
--
People Magazine
INVESTIGATES
For more on the LeeAnna Warner case, watch Little Girl Gone on People Magazine Investigates, May 3, 10 p.m. ET on Investigation Discovery and streaming on discovery+
COURTESY LUCY MOLINA; FBI; RADCLIFF POLICE DEPARTMENT; TEMPE POLICE DEPARTMENT; KENT POLICE DEPARTMENT; NCMEC(3). JOHN MYERS/DULUTH NEWS TRIBUNE; KENT POLICE DEPARTMENT; NCMEC; COURTESY LUCY MOLINA(3); WVIB/NEXTSTAR; NCMEC(3); DIPTI VAIDYA/THE TENNESSEAN/USA TODAY NETWORK. KSLA NEWS 12, SHREVEPORT, LA; KAREN KUEHN; RALPH FRESO/EAST VALLEY TRIBUNE/TIMES PUBLICATIONS; NCMEC; TEMPE POLICE DEPARTMENT