After many, many years of avoiding flying Spirit, I finally gave them a try last month. I was happily surprised by how pleasant the experience was. I had paid for a Big Front Seat and yet the flight was still cheaper than a Delta economy ticket for the same route. Plus, I was able to use my Ritz card's airline incidental fee reimbursement to refund the purchase of the Big Front Seat. The Big Front Seat was big and plush. And the flight attendants were super nice and attentive. The Big Front Seat is missing a number of things that you'll find on most other regional first class products: Spirit's seats don't recline and do not have video screens. Plus, unless you have Spirit Gold status, there are no complementary snacks or drinks. Still, the basic experience of getting from point A to point B was excellent.

Above, I'm shown in Delta First on the left, and on Spirit's Big Front Seat on the right. When I flew Spirit in October I was impressed with how nice the experience was. If anything, Spirit's seat may have been a bit more comfortable than Delta's, except that Spirit's seat doesn't recline. The flight attendants were very nice and attentive on both airlines.

Rethinking Spirit
My recent experience flying Spirit made me wonder if I need to change my approach to domestic flights. Previously I avoided Spirit like the plague even if Spirit offered better flight times and better prices. And it wasn't unusual for both to be true. Spirit has a pretty good route network from my home airport (Detroit – DTW):
Spirit's direct flights from Detroit (DTW) are shown above. Image courtesy of FlightConnections (I love that tool).


Spirit covers more routes from Detroit than AA and United, combined:
Shown above are all American Airlines AND United Airlines direct flights from Detroit (DTW). Image courtesy of FlightConnections.

Of course, since Detroit is a Delta hub, we have far more nonstop options on Delta:
Delta's regional direct flights from Detroit are shown above. Image courtesy of FlightConnections.

A real world side-by-side comparison
I recently flew to Denver with my son. I had originally booked the entire trip on Delta, but I decided that it would be great to do a little experiment: We would fly Delta one-way and Spirit the other in order to compare them nearly side-by-side. Based on my experience a month ago, I thought that the experiences would be close. I knew Delta would be better for its in-flight entertainment, food, and drinks, but I expected the rest of the experience to be similar.
With Delta, I booked a cheap flight with miles and was able to apply regional upgrade certificates (a Platinum elite status benefit) in order to secure first class. With Spirit, I was able to buy a very cheap flight and pay for the Big Front Seat. I was all set for this experiment!

Outbound booking:
- Delta: 5,000 miles + $5.60 + Regional Upgrade Certificate

Return:
- Spirit: $30.49 + $56 (for Big Front Seat) = $86.49

The information above makes it look like the two airlines were fairly close in price, but that's not really true. Delta charged more for the return flight. I had originally booked the return on Delta, in economy, for 13,500 miles + $5.60. If we value Delta miles at only a penny each, that's like paying $140.60 for economy. That's not bad, but nowhere near as good as Spirit's $86.49 for the Big Front Seat. Note that I booked my son's Spirit flight later than my own and his cost $112.59 with the Big Front Seat (still very cheap!).
Note that I didn't have to worry about paying for bags on this trip because I have Spirit Gold status and get a free checked bag and a free carry-on bag. Our plan was to check one of our bags and carry on the other. This is one of the perks of being a blogger: Spirit gave me this status when they were doing a big marketing push for their overhauled rewards program: Spirit goes revenue-based, makes elite status easier with new Free Spirit program. If we had to pay for bags it would have cost us $42 for a checked bag or $52 for a carry-on if we pre-purchased the bags online.
Result
Outbound Flight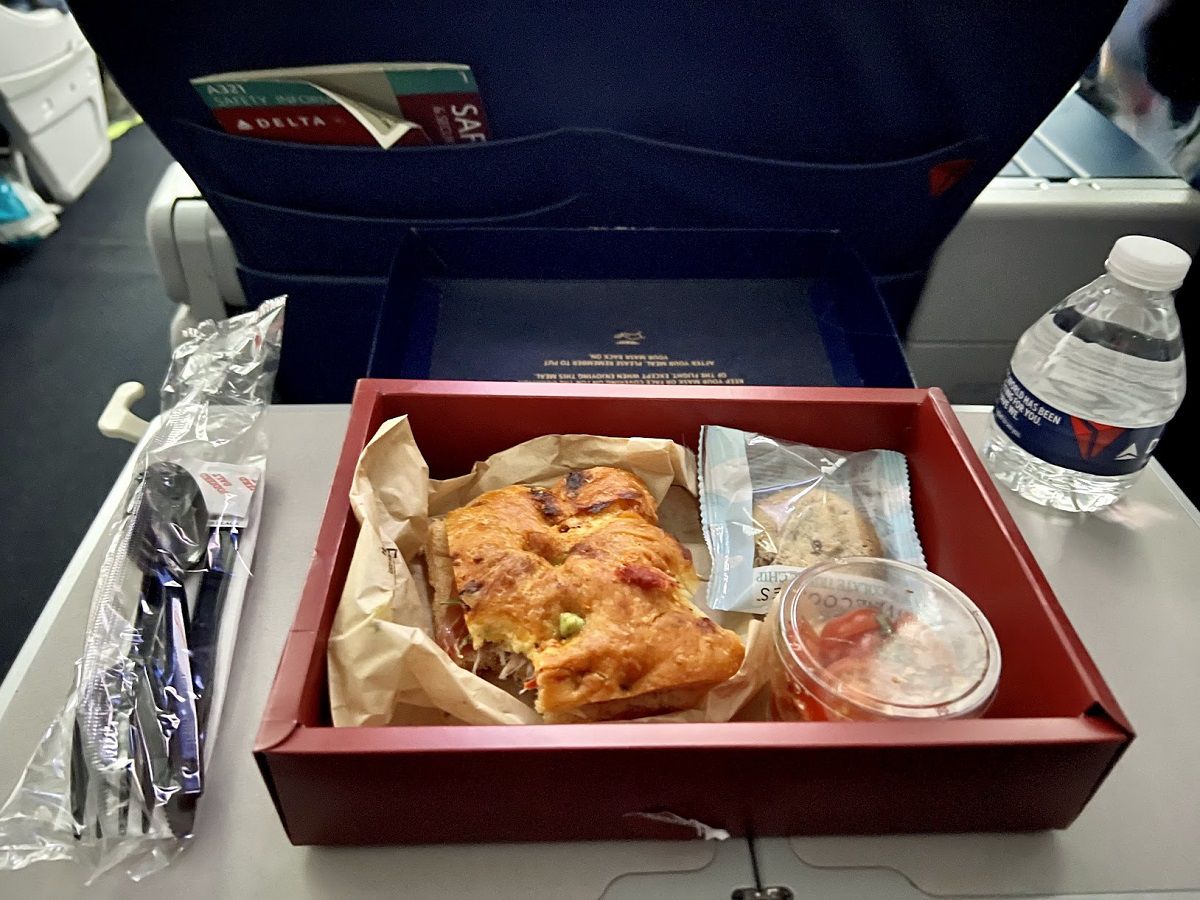 Delta regional first class meal.

Our outbound Delta flight was great. I was pleasantly surprised that they served a boxed lunch on a sub 3-hour flight. I didn't use the in-flight entertainment, but it was there and my son enjoyed it. And, of course, there was plenty of legroom:
Delta regional first class.

Return Flight
Our return flight was scheduled for 2:43pm on Friday. I first new something was wrong when an email from Spirit arrived at 7:20am:
Hello Gregory,
We sincerely apologize for what happened on your recent trip. We care about your satisfaction and want to make this right. Please accept our apologies along with this voucher for future travel to any of our destinations.
Whaaat? We hadn't yet flown, but they were already giving us $50 vouchers towards future travel bookings (as long as that future happens within 3 months). What was that all about? I logged into Spirit to check on our flight and saw that it was still listed as on time. I then checked on the plane itself which was scheduled to come from Detroit. That flight was already listed at more than 2 hours late. They knew that the plane wouldn't arrive in Denver until after the outbound flight was scheduled to leave. So, some apologetic algorithm at Spirit knew that the outbound flight was going to be late and therefore sent the apology and vouchers, but it was many hours before they updated our flight info to show that it would be late.

At 11:43 am, they finally acknowledged that the flight would be a couple of hours late and issued us each a $7 meal voucher. Anyone know a meal available at an airport for only $7?
Throughout the day, the scheduled departure got pushed back again and again. It finally took off at 9:18pm, almost 7 hours later than scheduled:
Fortunately for us, though, we weren't on that Spirit flight. When I saw how things were going, I booked an afternoon Delta flight for 24,500 miles plus $5.60, each. That wasn't cheap, but it was worth it. We were both upgraded to first class (I have Delta Diamond status) and enjoyed the return trip. The Delta flight took off a minute early and arrived in Detroit 11 minutes early:
Spirit Refund
While waiting at the gate for our Delta return flight, I texted Spirit to ask if we could cancel our flights and get our money back. Initially we were told that we would get $10 credit each because our bookings were non-refundable. I replied with a question "is that true even if the flight is extremely late?" The reply was great:
I am so sorry about that, I have just checked that for you, I will go ahead and cancel the flight for you and initiate a refund.
Score! My flight was booked with credits that I had left over from last month (long story), and so they refunded my flight in the form of credits. That's fair. My son's flight was paid with a credit card, though, and they refunded his ticket to the credit card!
I might book Spirit in the future, but…
I don't blame Spirit for the long delay on our booked flight. All airlines face issues that sometimes cause long delays. In fact, Spirit's on-time performance is better than most other U.S. airlines (but not as good as Delta's). And I was impressed that they offered both proactive compensation and full refunds.

The problem is that Spirit doesn't have the ability to get you where you need to go when things go wrong. When things go wrong with a Delta flight, Delta can usually put you on another Delta flight (but maybe with connections) or can even put you on an AA or United flight. Spirit doesn't have the route network or interline agreements for doing either.
Also, unlike most other carriers within the U.S., Spirit still charges for flight changes and cancellations. I love the flexibility of changing or cancelling flights when needed. With Spirit, those with Gold status get one free change per booking, but that's it.
Despite all of the above, there are times I might book Spirit in the future. Sometimes they simply have the best price by a large margin. More importantly to me, though, is that they sometimes have the best flight times for my needs. When that happens, I could imagine booking Spirit if I was confident that I wouldn't need to cancel the flight. But, even if that happens, I'll book a refundable flight on a competing airline as back-up. That way, if the Spirit flight gets cancelled or delayed, I'll have another good option. And if the Spirit flight flies as scheduled, I'll cancel or reschedule the back-up flight.
Conclusion
It's unfortunate that my Spirit flight got so massively delayed that I didn't even fly it. I was looking forward to doing a side-by-side review comparing Delta's regional first class to Spirit's Big Front Seat. The experience, though, reminded me that there are more reasons to avoid Spirit than my previous (and wrong) expectations that the in-flight experience would be bad. Unlike most other carriers in the U.S., Spirit still charges for changes and cancellations. And, when things go wrong, there's little they can do to reaccommodate fliers. That said, if price is your main driver, Spirit is usually significantly cheaper than others, even after accounting for baggage fees. And, I was impressed with some aspects of how they handled our delay. They proactively sent $50 vouchers towards future flights and gave us $7 meal vouchers. Considering that many fliers probably spent less than $50 for the flight anyway, that's pretty good! And the fact that they fully refunded our flight was great.