Fashion month may be over, but the trends showcased during it still remain top of mind. Like the return to irl shows, the spring 2022 collections that debuted in new york, london, milan, and paris last month were a breath of fresh air after a handful of seasons that centered around comfort-driven designs. This time around, we saw maximalism (in terms of both the amount of skin showing and layers present) and perfect pieces for our future plans (from tropical vacations to in-person schooling) prevailing on the runway. That being said, we're patiently waiting for spring and its corresponding collections to arrive.
After studying all of the spring/summer 2022 runway shows, we've landed on major trends that are set to be the most popular of the season, period. While these are guaranteed to be huge next year, it's never too soon to start test driving what's next in fashion, so if you're an early adopter, there are already plenty of shopping finds to add to your cart. Keep scrolling for the 10 biggest trends to know about in spring 2022.
PHOTO: CHANEL; KENNETH IZE/GETTY IMAGES; REJINA PYO; PACO RABANNE; JOHANNA ORTIZ
While ski-inspired fashion dominated the f/w 21 shows, designers brought back a similar holiday mindset to the s/s 22 runways. Instead of collections brimming with après-ski attire, this time around, there was a heavy rotation of swimwear and beachwear primed for a getaway. Chanel featured bikinis inspired by its iconic '90s designs, while brands including paco rabanne and johanna ortiz infused vibrant vacation-ready prints into their dresses and matching sets.
Shop the trend:
Maygel Coronel
Capri Ruffled Bandeau Bikini
$315
Shop the matching Rib High Cut Sport Bottoms ($49).
PETIT KOURAJ
Les Petit Petit Bag
$325
PHOTO: HELMUT LANG; LAQUAN SMITH; PROENZA SCHOULER; KWAIDAN EDITIONS; PRADA
The spring 2022 runways are proof that the reign of calm, neutral colors will come to an end. One of the most popular hues? Saffron—a bright, bold, and rich shade of red that is guaranteed to add some much-needed spice into our forthcoming wardrobes. But it won't just arrive in the form of a handbag or statement shoes—we're expecting saffron looks from head-to-toe, as displayed at Proenza Schouler, LaQuan Smith, and Kwaidan Editions.
Shop the trend:
11 HONORÉ
Willa Polo Sweater
$198
PHOTO: LACOSTE/GETTY IMAGES; MIU MIU; RAF SIMONS; Y/PROJECT/GETTY IMAGES; BOTTER/SPLASH IMAGES
The back-to-school vibe may not look quite like you remember (that is if designers have anything to do with it). Cable-knit sweaters were styled sans pant at Lacoste, rugby polos were reimagined in new proportions at Botter, and school-uniform fashion got a moody, gothic twist at Raf Simons. It was really Miu Miu, though, that solidified the major preppy rebrand. We saw knits cut to midriff-baring sizes and pleated skirts slashed to mini micro lengths so small you might miss them.
Shop the trend:
URBAN RENEWAL
Urban Renewal Recycled Low-Rise Mini Chino Skirt
$55
WHO WHAT WEAR COLLECTION
Knox Sweater-Vest
$115
PHOTO: MARYAM NASSIR ZADEH; MARINE SERRE; BALENCIAGA; LOUIS VUITTON; TORY BURCH
Reminiscent of the early aughts when Disney stars were known to wear sequinned skirts over low-rise flared jeans and fur-collared cardigans over lace camis, this season's layering game was nothing short of chaotic. And yet we couldn't help but fall fast for the overindulgence of it all. At Louis Vuitton, models draped themselves in lace blouses, leather pants, satin capes, and long scarves, all the while accessorizing with sculptural sunglasses. Tory Burch featured equally extreme styling (think skirts and dresses piled on top of ribbed leggings) as did Maryam Nassir Zadeh, where models were sent down the runway in off-the-shoulder knit tops worn on top of sparkly polos.
Shop the trend:
MARINE SERRE
Crescent Moon Print Turtleneck Top
$390
GIRLFRIEND COLLECTIVE
Black Rib High-Rise Legging
$88
PHOTO: MISSONI/COVER IMAGES; ECKHAUS LATTA; VERSACE; GAUCHERE; NENSI DOJAKA
On the opposite end of the sartorial spectrum, brands like Blumarine, Nensi Dojaka, Missoni, and Miu Miu showcased collections made of as little fabric as possible. From ultra low-rise miniskirts and naked dresses to tunic-length dresses and tops that resemble caution tape, the barely there trend that dominated on red carpets in 2021 is gearing up for an even more prevalent stint in 2022. If you need us, we'll be mentally preparing.
Shop the trend:
PISTOLA DENIM
Lenore Collared Crop Cardigan
$138
LOUISA BALLOU
Sex Wax Dress
$530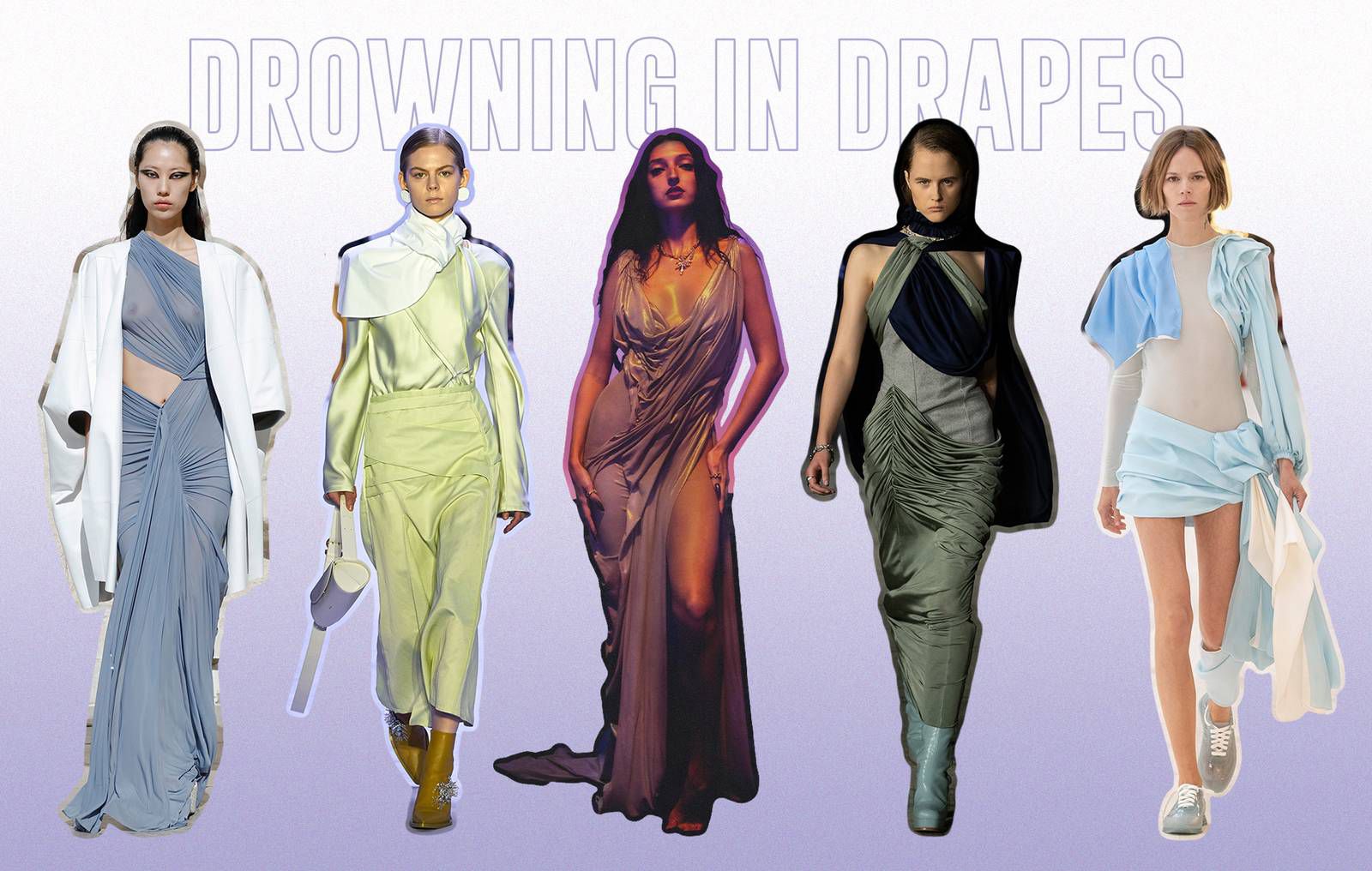 PHOTO: RICK OWENS; JIL SANDER; DI PETSA; RICHARD MALONE; LOEWE
A dose of romance has returned to the runways with a quirky take on draping that brings together everything from Grecian-inspired silhouettes (albeit in cool modern ways) to the most directional take on body-con silhouettes we've seen in a while. Designers including Rick Owens and Loewe featured off-kilter draped dresses that feel a bit rebellious. Di Pesta showcased the latest take on its "wet" dresses, which cling to the body and are designed to look like they were just plunged in water.
Shop the trend:
ATOIR
Never Really Over Bodysuit
$150
RENAISSANCE RENAISSANCE
Harumi Cold-Shoulder Draped Dress
$1020
THIRD FORM
Look Through Gathered Midi Dress
$230
PHOTO: ALAIA; CHLOÉ; BURBERRY/SPLASH IMAGES; BALMAIN; STELLA MCCARTNEY
Gone are the days of fringe being an offset of the Western aesthetic. For spring, designers got a little—a lot—more creative with the trend, incorporating long, car wash–esque straps into their collections with abandon. From multicolored strings that stemmed from maxis (Chloé) and minidresses (Burberry) to suiting made entirely of thick belts that draped onto the floor (Balmain), fringe is quickly becoming one of 2022's most dominant and interesting trends.
Shop the trend:
MOON RIVER
Faux Leather Jacket
$120
MANGO
Asymmetrical Fringed Dress
$80
JONATHAN SIMKHAI
Arden Fringe Skirt
$395
PHOTO: CHRISTIAN DIOR; LOEWE; FERRARI; COURREGES/GETTY IMAGES; BOTTEGA VENETA
Sporty pieces are still dominating and made a solid statement on the runways. Sure, we've all had a heavy dose of sweatpants and leisurewear at this point, but the sporty fashion in the S/S 22 collections feels more trend-forward. At Loewe, tracksuits were sculptural with ballooning strapless tops and stirrup-inspired pants. At Bottega Veneta, tennis whites got the fashion treatment with luxe fabrics, logo waistbands, and matching bags.
Shop the trend:
RUSSELL ATHLETIC
Russell Athletic Archive Track Pant
$75
PHOTO: COPERNI/COVER IMAGES; ISABEL MARANT; BLUMARINE/GETTY IMAGES; CHANEL; EMILIA WICKSTEAD
This season, designers seemed to agree that looking to the past was the only way to ready themselves for the future. In other words, nostalgia was everywhere, with Chanel putting on a runway show that, despite taking place in 2021, could have easily been held in the mid-1990s, displaying belly chains, miniskirt suits, and crimped and teased hair.
Meanwhile, at Olivier Rousteing's 10th anniversary Balmain show, the designer tapped supermodels from the turn of the millennium, sending them out in midriff-baring tops and low-rise bottoms. Dipping into the early aughts, Blumarine and Coperni presented butterfly motifs and sparkly panties, inflicting a very strong sense of sartorial déjà vu.
Shop the trend:
URBAN OUTFITTERS
Vivica Low Rise Faux Leather Pant
$69
URBAN OUTFITTERS
Circle Chain Belt
$19
CHRISTOPHER ESBER
Bias Silk Button Down Shirt Dress
$935
PHOTO: PETER DO; SAINT LAURENT; CHLOÉ; KHAITE; OUR LEGACY
Despite the saturated shades and vibrant prints that exploded onto the S/S 22 season, there's still something for the minimalists: maxi hemlines. We couldn't escape the sleek and streamlined silhouette, meaning it's poised to make a big comeback. At Peter Do and Saint Laurent, column skirts balanced out gauzy tops. Chloé and Khaite also showcased floor-sweeping dresses that are sure to be must-buy pieces for pared-back dressers.
Shop the trend:
SKIMS
Lounge Ribbed Long Sleeve Maxi Dress
$88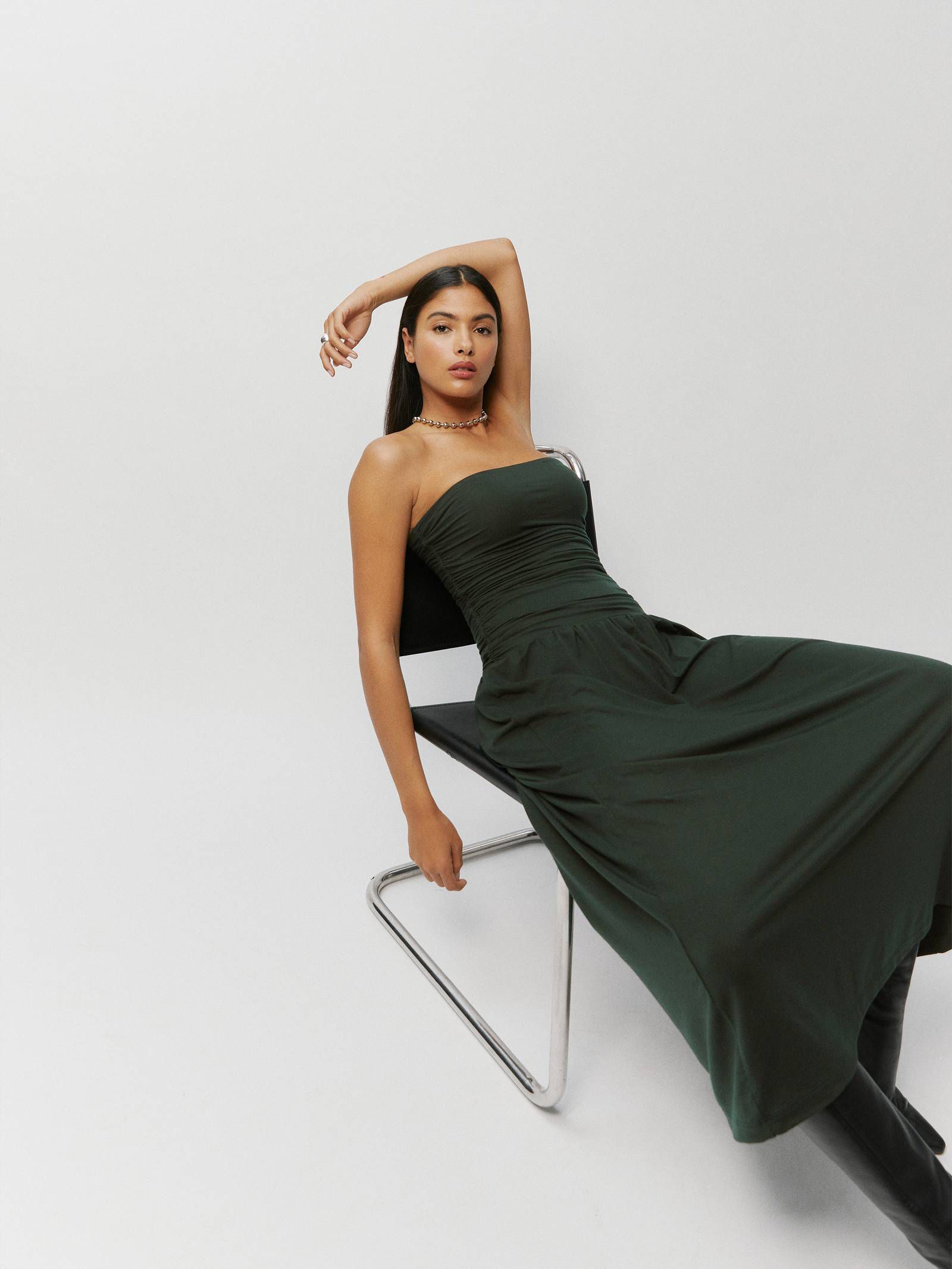 THE REFORMATION
Isabelle Dress
$178
Next: You Heard It Here First—7 Trends From Paris That Will Take Over in 2022