By Abby Kass via Buzzfeed
1. A bath pillow to make your "me" time so much better by giving you a nice place to rest your head instead of the cold hard tub. So much so, you may never want to leave the tub again...
Promising review: "I love it! I've been annoyed for a long while now with laying my back against a cold, hard surface while trying to relax in the tub. I've owned those blow-up type pillows before, but they were a pain, always losing their air and their buoyancy caused them to continually lose suction. This pillow is thick, comfortable, and stays stuck very well. I've taken about six baths with it so far with no problems." —Mama-O
Get it from Amazon for $13.50.
2. A mug warmer that regulates the temperature of your coffee or tea so you can nurse your drink for hours without it becoming an ice-cold beverage.
Promising review: "This works great. It gets much more of the product out of the jar from all the nooks. After I'm done, I cut the used jar in half and let my dogs lick it clean. They hate the knife because there's much less peanut butter left in the jar now." —Armand
Get it from the Grommet for $12.99 or a set of two from Amazon for $22.99.
6. A miraculous plastic container with FreshVent technology to regulate the flow of oxygen and carbon dioxide to keep your berries fresh for up to 2 (!!) weeks – because there's not much worse then grabbing your berry container two days after you bought it and seeing that there's been a mold eruption inside.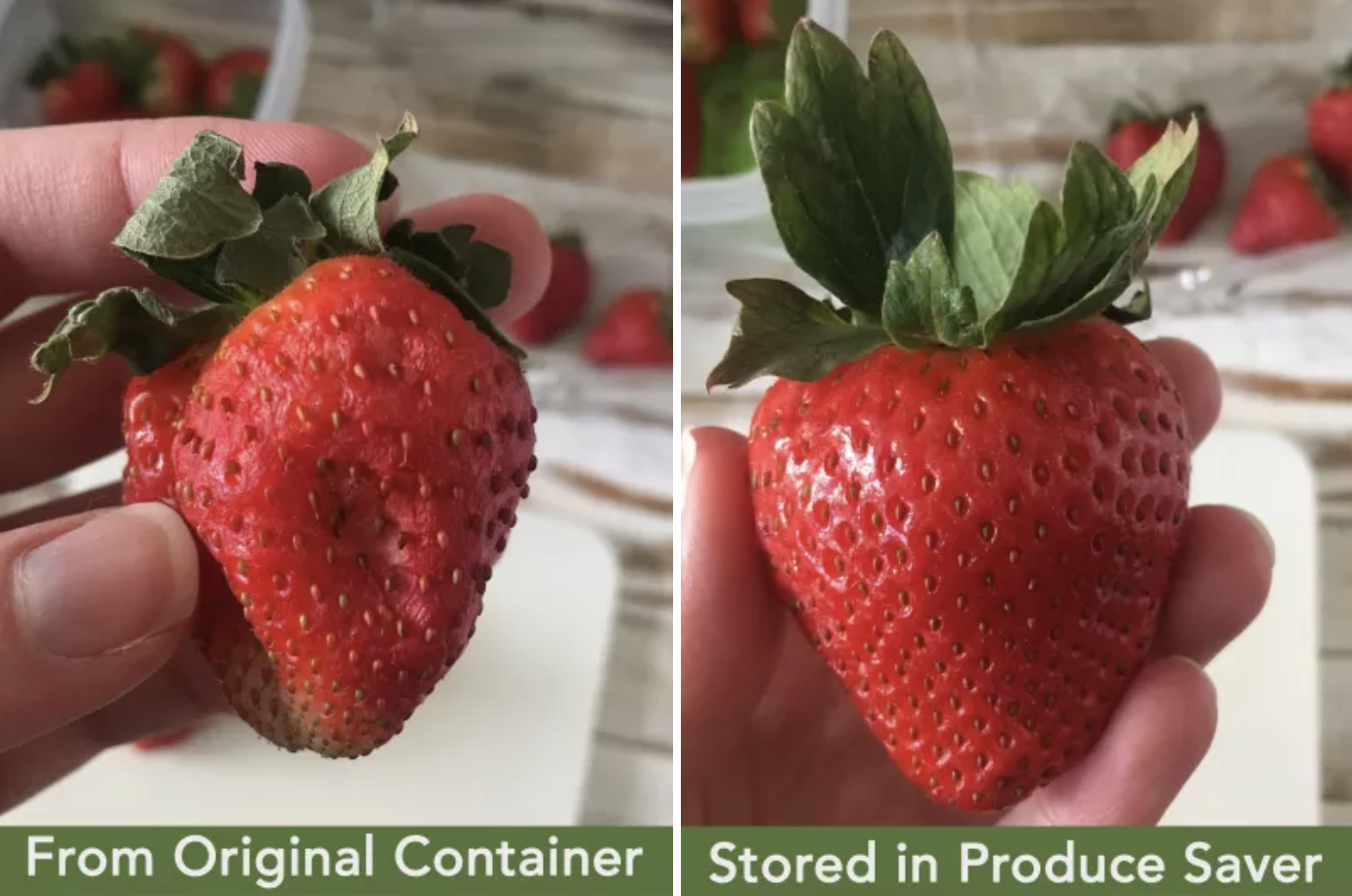 Promising review: "My husband was getting annoyed about the amount of produce we waste. Our son loves berries, and the larger packages give you more bang for your buck...if you can eat them all before they go bad! These containers really do prolong the life of produce! Plus, they're easy to clean. We just toss them in the dishwasher. I would highly recommend it!" —APC
Get it from Amazon for $12.35+ (available in seven sizes and sets).
7. A PopWallet so you never have to make the tough choice of either attaching a PopGrip to help you hold and prop up your phone *or* adding a convenient place to store your cards — now you can do both.
Promising review: "I have been looking for the best of both worlds when it comes to iPhone accessories for a long time. This holds my cards and gives me a pop socket. I can't be happier with this purchase." —Mckenzie G.
Get it from PopSockets for $25.
8. Pimple patches that'll stop zits in their tracks before they ruin your big date or presentation — or just your everyday life.
Promising review: "I'm obsessed with these things!!! I'm an esthetician; however, being in my twenties and having raging hormones has challenged my skin a lot. It's embarrassing showing up to work and having pimples when others are supposed to trust me with their skin. These are so fast-acting and have saved me a lot of time and money. It's amazing how they just suck out the infection. It's perfect for those deep-under-the-skin pimples as well, but it does take a few extra days. I will continue to repurchase!" —julia raye todd
Get a pack of 36 from Amazon for $12.50.
9. A Billie razor designed to actually make shaving easier so you'll probably actually be excited to shave your legs for the first time in, well, a while.
Billie is a favorite on our team, and I've been using it for the past couple of months. Not only is it super smooth and easy to use, but they also send you new razors every one to three months, depending on how often you shave. That way, you never have to try reallyyyyy hard to remember when the last time you switched the blade was, because one will show up at your door when it's time to change it.
Promising review (from a fellow BuzzFeed shopping & products writer): "Billie is just the most wonderful company, and every time I take a shower, I wonder if I should write them fan mail. First of all, everything they design is ADORABLE, so even if their razors were dull or flimsy, I'd still be a loyal fan. But luckily, their razors are as sharp as they are sharp looking. The handle is super lightweight and easy to grip. The razor heads are surrounded in a layer of soap, so they glide beautifully over skin without irritating it. Billie makes great razors, and it's awesome that they're so affordable. If only they could go back in time and stop me from paying absurd amounts of money on pharmacy brand razors in my youth." —Rebecca O'Connell
Get the starter kit from Billie for $9 (and then four replacement cartridges for $9 when you need them).
Read more about why BuzzFeed editors and writers are OBSESSED with Billie razors.
10. A dip clip you can attach to the side of your plate so you don't end up with ketchup-covered watermelon (I think that's happened at every single barbecue I've ever attended).
Promising review: "These are so handy! I got tired of my pretzels sliding into my honey mustard before I was ready to dip! This sent me on a search to resolve this little irritation and led me to the Dip Clips. They're nice secure clips and top-rack dishwasher safe. I found they work great for olives also. No move olives diving off my plate." —MzBzzb
Get a set of eight from Amazon for $9.99.
11. A set of resistance bands made with fabric, so they won't roll or snap while you're using them because you deserve to get through your whole workout without having to stop and unroll your band every couple of minutes.
Promising review: "I'm so happy with this purchase! I have found other workout bands to be annoying and slip or roll, but these bands stay put always! The fabric is wonderful and the three different strengths are perfect. I have been using them daily and highly recommend them to anyone looking to enhance their workouts!" —sharon kelley
Get a set of three from Amazon for $14.69+ (available in three color combinations).
12. A freezer tray to store the extra herbs you buy when your recipe calls for four tablespoons of fresh parsley, but the grocery store only sells it in bushels meant to serve hundreds. Ugh.
Promising review: "These little freezer cups are awesome. They make it really nice when you need some fresh herbs, and you don't want to run to the store all the time. Also, makes it nice to freeze the fresh herbs I grow." —DUCK
Get it from Amazon for $9.99.
13. A bug bite suction tool because mosquito bites ~suck~ so much and this little tool works to remove the ~pest-ky~ irritant, meaning no more itchiness!
This tool suctions up insect venom, saliva, and other irritants from under the skin, thus preventing your body from producing a reaction to the irritant (i.e. itchiness).
Promising review: "I am a magnet for bites of all kinds and carry topical and medicines with me at all times — so I figured this would be a good product to see if it really works. It arrived on Monday and on Tuesday morning I woke up with a bug bite on my arm. I used this little tool (3x per the instructions) and documented it with photos. Immediately after using it, the bite stopped itching! And less than 24 hours later the bump/bite was gone! There is a very faint red mark from using the thing but a small price to pay IMO. Bottom line: it's awesome. I'm carrying it with me everywhere!" —Rebecca
Get it from Amazon for $9.95 (also available in 2-, 3- and 6-packs).
14. Bed bands that'll work super hard to keep the corners of your fitted sheet in place so they don't pop off and try to escape every chance they get. Plus, this means you won't have to fight to get the sheet on all four corners as often — that itself is a chore.
Promising review: "I have a pillow-top and pillow-bottom queen-sized bed that is a little too small for king sheets, and with queen sheets, I have battled to keep the sheets from popping off. I have tried everything! I was about to try to customize some king sheets because it was so frustrating. Then I saw this. It works. I was shocked. My sheets have not popped off once. I ordered this in February and it is May now — and they have not popped off once! They used to pop off EVERY....SINGLE...NIGHT. To say this is life-changing is not an exaggeration. Such a relief to be able to sleep through the night without ending up in rumpled sheets." —TinkerbellAPixie
Get a pack of four bands from Amazon for $12.99+ (available in four pack sizes and five colors).
15. A migraine headache stick you can toss in your bag and quickly grab when you feel a headache coming on to help stop it in its tracks before it ruins your whole day.
Promising review: "Years ago, a massage therapist I went to used a cream at my temples that helped greatly with headaches and nausea. I have tried to find that scent for years. THIS IS IT! I use it daily on my temples and the back of my neck just below my hairline. It helps 100% with nausea I suffer from the meds I take. Many of my headaches I can prevent from going to a migraine by applying again at the start of the headache. I take so many meds because of autoimmune diseases that I like not having to pop another pill for my headaches. I am the most skeptical person you will find when it comes to homeopathic or oils, etc., but this works!" —DVS
Get it from Amazon for $10.99.
Read one BuzzFeeder's full review of the Migrastil Migraine stick here.
16. A handle that'll make it *sooooo* much easier to carry all your groceries in one trip without the threat of dropping half the groceries on the floor because you said to yourself, "I can TOTALLY carry this all" (when, in fact, you probably shouldn't have).
Each handle can hold up to 50 lbs.
Promising review: "I live in an upstairs apartment with 16 steps in a row up to my front door, and I have about a 40-yard walk from my car to the base of the steps. These handles allow me to EASILY tote all or most of all of my grocery bags from my car to my apartment. Before I was using almost every finger on both hands to struggle the bags to my apartment, with some pain in some of my fingers." —Doubting Thomas
Get a two-pack from Amazon for $13.95.
17. A flip top you can attach to your bottles to make sure you get EVERY. LAST. DROP so you don't have to buy ketchup or salad dressing as often.
Promising review: "This gadget is FANTASTIC. We placed it on a squeeze bottle of honey because I'm always aggravated that the last 1/3 of a bottle of honey is so difficult to get out. I like that this doesn't change the height of the bottle so it can fit on the same shelf. Flip-it also allows us to keep the honey stored upside down so every drop will be ready as the bottle empties. I'm so impressed that it has a fail-safe cap so it closes off automatically when you're done squeezing the product and eliminates concerns of leakage. They are substantially constructed and should last a very long time." —O. Sutherland
Get a pack of 12 from Amazon for $19.99 (also available in a 24- piece kit).
18. A touch-up razor designed to be a quick way for you to shape your eyebrows, remove any hair, and just get smooth skin without having to make another appointment and spend more time in a salon chair.
Promising review: "This is super easy and satisfying to use. You're literally scraping all of the peach fuzz and dead skin off your face. My face is glowing and incredibly soft now. I highly recommend it." —Jane
Get a pack of three from Amazon for $4.99 (also available in a nine pack).
19. An EZ Off Jar Opener, because I can't be the only one who's abandoned making dinner and simply ordered takeout because I couldn't get a jar open.
This little gadget can not only open jars, but also other hard lids (like on plastic bottles). Just put it in the corner and twist for easy opening.
Promising review: "I bought this last year and have used it many times on many different lids, even use it to open gallon milk jugs when those pesky plastic attachments just won't seem to give. I haven't found anything I try that it won't open for me. No more banging on the counter, just hold it under my cabinet and slid it in the V shaped opening, give it a little twist to open, hardly any effort at all. It was easy to attach under the cabinet, I put mine so the wide opening faces forward. I personally think every house should have one of these." —Addie
Get it from Amazon for $12.59.
20. An all-natural yoga mat cleaner spray that will give your mat a deep clean *and* leave it with a pleasant lavender scent, so the next time you're in savasana, you'll get a whiff of relaxation and a sense of calm knowing you're laying on a clean mat.
Asutra is a WOC-owned brand making natural self-care products at an accessible price point. The products are made with organic plants, minerals, and essential oils and do not contain parabens, phthalates, or petroleum. This mat spray is made with tea tree oil to help kill bacterial on the mat. It also comes with a microfiber towel to help you clean.
Promising review: "I teach yoga and have recommended this product to many students and fellow teachers. I love the scent and performance of this mat cleaner spray. It doesn't leave a weird residue like others I've used, especially with the help of the little cleaning towel that comes with the purchase. I will definitely order again." —Heather
Get it from Asutra or Amazon for $12.99 (available in seven scents).
21. A heat conducting scoop so you don't ~scream~ when all you want is ice cream but it's "too hard" to get out of the carton.
Promising review: "I love this scoop. It's an awesome product. The heat of your hand warms up the scoop making it easy to scoop out perfect round scoops. I LOVE the color and the feel. I have arthritis in my hands, and it's lightweight and easy to grasp. It's NOT dishwasher safe, but it's NOT an issue as it washes clean so quickly!" —Mommacar
Get it from Amazon for $17.97.
22. A wine stain–removing spray, because you shouldn't be held responsible for any spills that happen during happy hour or movie night. Red wine is too good not to drink out of fear of ruining your clothes, furniture, or anything else that gets in its way!
I can confirm that this works and works well. I've used it a number of times to remove different kinds of stains — red wine, rosé, and even berries. It got a rosé out of white t-shirt instantly and even removed red wine from my white/grey rug. It's super easy to use too. You just spray it on the stain, let it sit for a bit and scrub it away. I like to always have this on hand now because accidents happen.
Promising review: "This stuff is like a miracle on those tough red wine or dark berry stains! Even works well on dark chocolate! My husband is the 'Stain King,' and on our last vacation he put some berries from a buffet into the pocket of his brand new khaki shorts (Why, you ask? Never got a good answer for this one!). As you can then figure, the berries, during the course of the day and while riding home in the suitcase got mashed up and stained the shorts pretty badly. (Luckily they didn't get on anything else in the suitcase.) When I unpacked, the stains had set for about two days, and I thought the shorts were going to be ruined. I saw this product online and ordered it. It got every bit of the set-in berry stains out! It was like magic, I sprayed it on, and it just DISAPPEARED! As I said, I have also had the opportunity to try it on several red wine and dark chocolate stains, and it's been a miracle for getting them out without any damage to the material. No fading at all, just takes out the stain!" —Linda R. Shinsky
Get it from Amazon for $7.95 (available in five varities).
23. An Aquapaw slow treater to make bath time for your dog a bit easier as they enjoy a peanut butter snack instead of shaking and trying to escape as quickly as possible, leaving a trail of water as they go.
Promising review: "I have a corgi that HATES to be brushed or bathed and bought this to see if it would help. I didn't expect much honestly, but this thing worked like a charm! I smothered it with peanut butter and stuck it in the freezer for a few hours, so I was sure it would last more than a minute. I was able to get an actual brushing in without him trying to snap or jump our of the tub. He was so enthralled with it that I would wager to say I could clip his nails! You should definitely give this a try." —Tera
Get it from Chewy for $10.95.
24. A Kochblume spill stopper you can put on top of your pot and then can walk away knowing that the water won't overflow onto the stove whenever it *finally* decides to boil.
Promising review: "Wow wow wow, I have no words to describe how great this product is. I'm a mom with a large family who cooks and bakes all the time, and there is never a time that something doesn't spill over even when standing and watching the pot. With this, life has just gotten easy. I think I'm throwing out all my pot covers after using this."—Rackel
Get it from Amazon for $22.93+ (available in black, green, and red).
25. A rain and stain repellent to protect your nice bags that you spent GOOD MONEY on and that you don't want to get ruined by your jeans transferring UNWANTED blue dye on them.
Ugh, I dealt with this exact problem on a nice new bag, and let me tell you, I was very annoyed. I will be adding this to my cart immediately.
Promising review: "I LOVE this stuff! I have several high end purses and was struggling with dye transfer from my jeans. Now, each time I buy a purse I treat it with this first, and I have no more troubles with my purses turning blue!" —MTHealthyLiving
Get it from Amazon for $16.99.
26. A Tweexy specifically designed to make you say, "Why didn't I think of that?!?" when you use it to help make painting the nails on your non-dominant hand so much easier. It's time for that hand to NOT look like a five year old painted it.
Promising review: "Ok, this is definitely one of those things that is so simple and when you get it, you say "well, why didn't I think of that?". It's super useful and fits my tall, thin bottles of gel polish great. I was concerned it wouldn't be snug enough for them because they are skinny but it still works wonderfully. Is comfy on my fat little fingers (ring size 9.5). Definitely recommended." —Mandi C
Get it from Amazon for $9.99 (available in 18 colors).
27. Some eco-friendly bamboo towels that'll replace six month's worth of paper towels so you can keep your home clean, feel good about the impact you have on the environment, *and* never have to worry about using tissues to clean up a spill because you forgot to pick up paper towels when you were at the store...again.
All you have to do when you're done using one is throw it in the wash!
Promising review: "I clean for a living, so using these on the job as well as my home makes life much easier, and I can feel better about not being so wasteful. I use them for drying my hands, cleaning the countertops, and as a reusable Swiffer pad for floors. What I do is mark each one with a Sharpie. My first initial for hands and face at home, 'C' for cleaning counters and 'F' for floor. What I love about these the most is they dry a lot quicker than regular towels and washing them is super easy. Dirt and grime tend to just rinse right out. Even on the mop pads. It's incredible. Now I don't have to waste money buying the Swiffer refills. These are different to use but it's worth figuring out what works for you!! A must buy for eco-friendly cleaning!" —Joyce
Get a roll of 20 sheets from Amazon for $8.99 (also available in two and four rolls).
28. A TubShroom with some of the most disgusting but oh-so satisfying review images. You may wonder how you still have hair on your head after using this product...but at least that hair won't be backing up your tub anymore and you won't have to stick your hand down there and grab a very disgusting handful of gunk.
Promising review: "This is absolutely worth every penny. Kudos to the inventor of this product. I have thick long dark hair, and after two months of moving into my own apartment, my shower drain was completely clogged with all my hair. After being disgusted at the amount of hair I had to clean out with a snake (which is NOT a fun task), I decided I needed to purchase something to prevent it from happening again. I read about this product on a BuzzFeed article, and I have no regrets. It is so satisfying to clean out, and it does not lie when it says it catches every single hair. I have had it for close to 4 months without once instance of my shower drain backing up. This product is absolutely worth it." —Jess
Get it from Amazon for $12.99 (available in six colors).
Read BuzzFeed's full review of the TubShroom here.
29. A LifeStraw that's essentially a little magic device that makes any water drinkable by removing 99.999999% of bacteria and 99.999% of parasites. This means, you can enjoy a fresh drink when you're on a hike and forgot to bring a water bottle...again.
Plus, it lasts for a long time! It will provide about 1,000 gallons of safe drinking water.
Promising review: "This thing is no joke! I took it backpacking in Maine's Bigelow range. When I ran out of the water I brought, I was A-OK with this. On top of one of the lower peaks, I drank from the most disgusting-looking crevice filled with brown scum. I thought, this is going to be safe, but taste horrid. WRONG. IT TASTED LIKE THE FRESHEST SPRING WATER, better than any tap. I'm from Maine, and I've tasted plenty of water right from mountain springs, so take my word for it. One note: it can be a little challenging to use at first. You have to start by soaking it; if it still doesn't work, blow into it a bit. Get one for your outdoor adventures, and one for your bug-out bag, which everyone should have in case of natural disaster." —Amazon Customer
Get it from Amazon for $17.47 (also available in 2-, 3-, and 5-packs).
30. A Bracelet Mate so you're never stuck home alone struggling to put on a bracelet by yourself.
Promising review: "I can't believe I've waited this long to buy one of these. My eyesight is failing, including my depth perception so wearing bracelets has been difficult unless they are slip-on. This jewelry helper is easy to use. Now I can wear bracelets again." —Cat Mm
Get it from Amazon for $6.99+ (available in four colors).
31. A Thaw Claw to defrost meat up to seven times faster. All you have to do is suction it to your sink, fill the sink with water, and then put the frozen food under the claw. It will be defrosted in no time — and you'll never have to remember to take the meat out of the fridge in the morning again.
Plus, this Black-owned and invented product fits in all sinks no matter the size or type.
Promising review: "A package of frozen meat would have taken at least two days to thaw in the fridge. I used this for a 2-pound package a couple of days ago, and the meat was thawed within 90 minutes. One of the most practical kitchen gadgets I own." —Llda Schellhase
Get it from Amazon for $12.95+ (available in three colors).
32. Some ZenToes you can slide on any toes that currently have an issue (such as a missing or ingrown nail, hammer toes, or blisters) and spend the rest of the day walking — without any pain.
Promising review: "I have a painful and annoying hammer toe on my right foot. I have tried 3-4 other products to alleviate the pain and rubbing but nothing has worked until the ZenToes! The little sleeve rolls onto the toe and keeps it from rubbing on my shoes. I wash it out at night, and it's ready for the next day. Problem solved. Thanks so much for this great product!" —GranBobbie
Get a six-pack from Amazon for $10.99 (available in small and large in white and beige and in a six pack).
33. Dish soap spray that'll evenly coat your dishes and help you clean them faster so you don't have to spend any extra time (or strength) scrubbing the stuck-on food.
Promising review: "This stuff is AMAZING!!! It is the absolute best stuck on caked-on food fighter I've ever tried. I didn't even have to scrub. You truly just spray it on, and then wipe or spray it off. I even used it to spray onto some dishes that had been through the dishwasher and didn't come clean. They were extremely clean after using." —Renea
Get it from CVS for $8.19.
34. A Swiss Army Knife with seven tools you should keep on hand, because you really never know when you're going to need a nail file or a toothpick to really turn your day around.
It has seven tools including a blade, nail file with screwdriver, scissors, a key ring, tweezers, and a toothpick.
Promising review: "THIS IS SUCH A USEFUL TOOL! Although it is small, the tools that this pocket knife has on it help out in those small times of need. Splinter? Its got tweezers. Annoying string hanging off of your clothes? It comes with some scissors. Chipped a nail? It has a file to smooth it out. There are still a few more tools on it, but overall this small pocket knife is one of those basic things that you could probably find a use for day-to-day." —Hector Prado
Get it from Amazon for $19.72 (available in 30 colors and styles).
35. Some re-wear dry wash spray so you can freshen up those ~in-between~ clothes that you've worn once or twice and that aren't really dirty enough to fully wash, but that still feel wrong to put back in your closet.
Promising review: "I feel like Love Home and Planet said, 'Hey you know what that mom over there smells like mildew. I bet it's because she had 99 problems and laundry wasn't one of them.' Thank you for understanding that sometimes life happens, and I just don't put the clothes in the wash fast enough. This mom no longer stands 3 feet away from her coworkers LOL! I smell a amazing all because of the dry wash spray. No joke!" —cindym35
Get it from Target for $7.49.
36. A pair of eyeglasses temple tips to stop your glasses from sliding off your face when you look down because it's 2020, and that really should never happen.
Promising review: "I have bad eyesight, and my lenses are thicker than most. As a result, my glasses tend to slide down my nose if I start to sweat. It's extremely annoying. Let me tell you, these work great for me! I no longer have to push my glasses back up every 30 seconds or worry about my glasses falling off my face when I mow the grass. They're very comfortable And seem pretty durable so far. I'm still on my first pair and I've worn them non-stop since I got them a month and a half ago." —DeeJayDubbs
Get them from Amazon for $6.99+ (available in clear, black, and grey).
37. A Zipuller for anyone, including myself, who has struggled to get a dress (or any other article of clothing) zipped up in the morning while screaming, "There's got to be a better way!". Here it is. Now you can get dressed with ease and move on to more important things.
Promising review: "I was skeptical that this puller would actually work. I wear dresses Monday through Friday for work. I buy ones that have long, hidden zippers. I am breaking about one zipper every two weeks, trying to zip them up by myself. It was costing me about $50 to replace the zippers. Finally, I broke down and bought this. I am so happy that I did. It takes a couple times to get it on right, but once you get the zipper puller on the zipper, it zips right up. This is perfect! It's great for single moms like me!!!" —M. Sanders
Get it from Amazon for $14.99+ (available in red, pink, and black).
38. A SockDock because I am convinced that socks plan their escape every time you put them in the wash. I mean, where do they go and how do I always end up with three lone socks after doing my laundry EVERY. SINGLE. TIME.
Promising review: "Finally a product that makes this part of my life simpler! Seriously keeping sock together is one of those little life challenges that is annoying enough to drive me insane after each load of laundry. I only bought one set for myself to test out, but now I will be buying them for my wife and my kids to use. I did notice that if I tightened the socks too snug they would still be slightly damp after the dryer, but I slightly loosened the tension and that issue has been easily resolved." —Joshua
Get it from Amazon for $16 (available in five colors).
39. A poop bag holder so you can ~do do~ the right thing and carry the poop to the nearest garbage without it stinking up the rest of the walk.
I once did a beach clean up, and we found almost 10 bags of poop just chilling on the beach. Do better people!
Promising review: "My dog often poops 2-3 times on a hike, and it's incredibly annoying to carry her full poop bags. They stink, they're squishy, and I hate holding them—especially when I'm trying to quickly pull out my phone to take a picture of a special moment. This simple yet genius item allows me to carry her poop by clipping the container to my waist and snapping the lid shut. My hands are free, my nose is happy, and the trails are clear of Quinn poop." —Amanda
Get it from Amazon for $12.50 (available in blue and red).