Chef Greg's Soul "N" the Wall
10009 Curtis St., Detroit; 313-861-0331; facebook.com/chef-gregs-soul-n-the-wall
Chef Greg's is known for its signature sandwich, the Boogaloo — a Detroit-style sloppy joe. The newly revived business also offers other Boogaloo Wonderland sandwiches such as Steak Boogaloo, Veggie Boogaloo, and more.
Photo by Tom Perkins
Let's be real: We've never met a sandwich we didn't like.In fact, our personal nutritional pyramid is made up of 65% sandwich and/or sandwich material and condiments. No, but really. Like, if we had a final meal — be it death row, apocalypse, or another four years of Trump (we'd prefer the death row/apocalypse, please) — it would be a sandwich from one of these 30 essential metro Detroit sandwich shops. Would we choose a pastrami and rye from one of the area's beloved and classic Jewish delicatessens? Or a Moroccan-spiced chicken sandwich? What about some sort of breakfast-on-a-bagel situation? Well, hopefully, we have some time before we have to select a final meal but for now, we don't have to pick just one. Follow your heart, dreams, and hunger pangs. And grab some antacid while you're at it!

Ernie's Market
8500 Capital St., Oak Park; 248-541-9703; erniessandwichshop.com
Ernie's is known for its large, unique sandwiches — and for Ernie, a shopkeep with a propensity for saying, "Baby!" You can put a number of toppings on them, and choose from a wide variety of sides. The local business has been serving the community for years.

Photo via Ernie's Market / Facebook
Stateside Deli
653 S. Adams Rd., Birmingham; 248-550-0455; statesidedeli.com
You can't go wrong with a restaurant that has an entire section of its menu dedicated to "Deli Delights." This classic Birmingham restaurant and deli offers authentic deli classics, like corned beef and pastrami and their award-winning reuben.
Photo via Stateside Deli & Restaurant/Facebook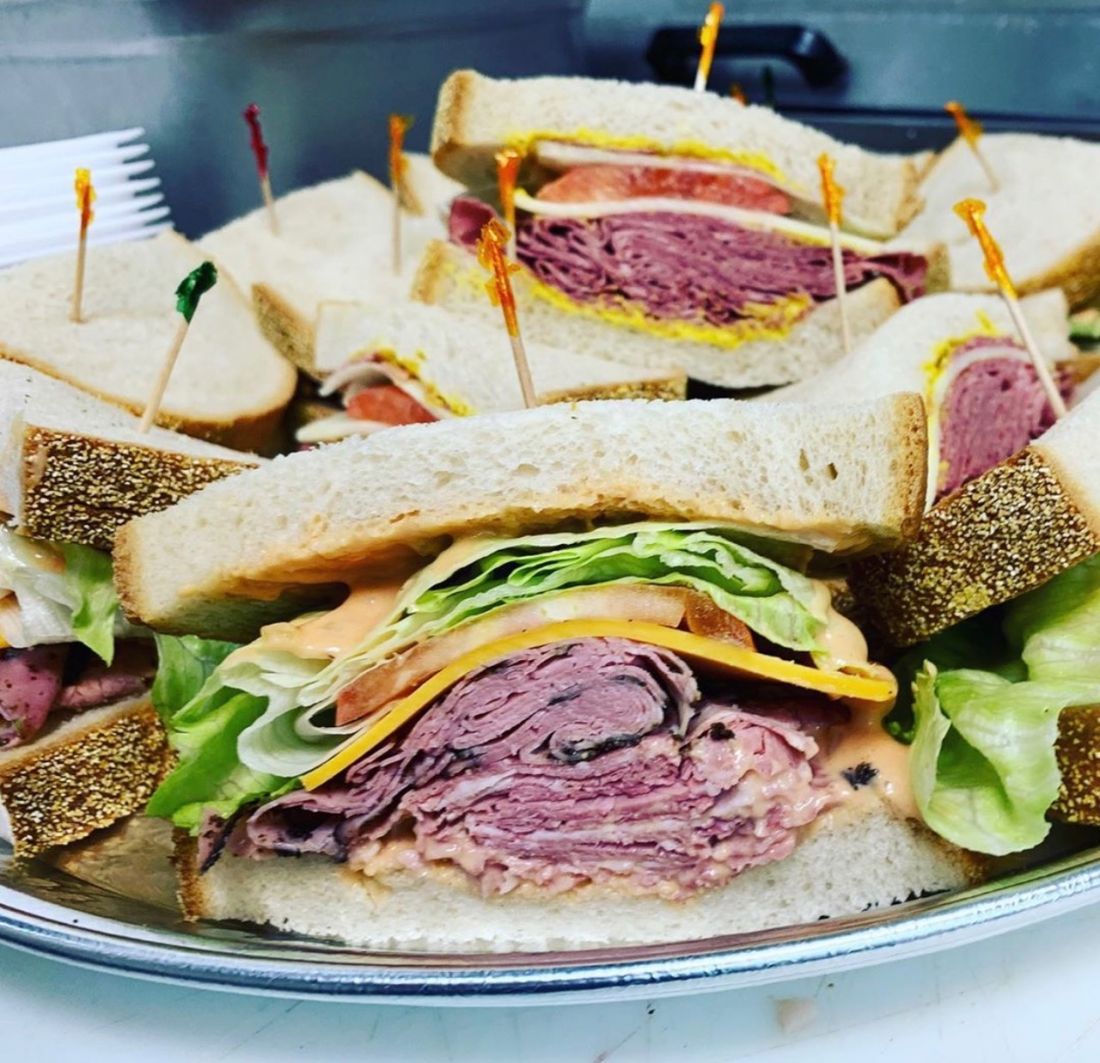 Hygrade Deli
3640 Michigan Ave., Detroit; 313-894-6620; hygradedeli.com
This old-school restaurant is known for its huge corned beef sandwiches. In addition to that, Batman vs. Superman and The Pickle Recipe were filmed there.

Photo via Hygrade Deli / Facebook
Rocco's Italian Deli
3627 Cass Ave., Detroit; 313-315-3033; roccosdetroit.com
The new-ish Italian deli on the block, Rocco's is a contender for one of the best damn sandwiches in town, offering a small selection of sandwiches, like the Il Rocco (hot soppressata, mortadella, fontino, romaine, spicy red pepper relish, and garlic-lemon aioli) or the breast chicken parm. They've got veggie-friendly options, too, as well as salads, take-and-bake pasta dishes, and the occasional cannoli.

Photo via Rocco's Detroit/Facebook
Bucharest Grill
Multiple locations; bucharestgrill.com
We're not going to get into the wrap vs. sandwich debate when it comes to this classic and casual Middle-Eastern chain. For us, the shawarma qualifies as a sandwich which is why Bucharest Grill gets a nod on this list.
Photo via Bucharest Grill/ Facebook
Mike's Famous Ham Place
3700 Michigan Ave., Detroit; 313-894-6922; mikesfamoushamplace.food-places.com
Mike's has been serving different variations of ham for breakfast, lunch, and dinner for decades. Menu items include ham and egg sandwiches, ham melts, and more.

Photo via Mike's Famous Ham Place / Facebook


Ember's Deli
3598 W. Maple Rd., Bloomfield Hills; 248-645-1033;embersdeli1.com
Since 1969, this family-owned and operated deli and restaurant combines traditional deli favorites as well as a whole delicious mess of smoked and roasted meats, as well as soups, salads, and breakfast.

Photo via Ember's Deli and Restaurant/Facebook


The Turkey Grill
8290 Woodward Ave., Detroit; 313-872-4624; theturkeygrill.com
The Turkey Grill offers Southern sandwiches and dishes, and serves everything in large portions. It also features daily specials.

Photo via Turkey Grill / Facebook


Dimo's Deli and Donuts
2030 W. Stadium Blvd., Ann Arbor; 734-662-7944; dimosdelianddonuts.com
If you're craving a sandwich and a doughnut (or four), Dimo's is the place to go. Some include variations of corned beef, pastrami, salami, ham, and many more.
Photo via Dimo's Deli & Donuts / Facebook


Mudgie's Deli and Bar
1413 Brooklyn St., Detroit; 313-961-2000; mudgiesdeli.com
Perhaps one of the most essential places to grab a sandwich in Detroit, Mudgie's Deli and Bar has a sandwich for every mood and persuasion. You want poultry? There's a menu for that. How about a vegan reuben? Does the term "multi-meat" get you going? Maybe a $60 sandwich called the F'getaboutit, which features 2 lbs of corned beef, swiss cheese, coleslaw or kraut, yellow mustard or thousand island, on a 2 lb loaf of sourdough or rye, is what the doctor ordered? OK — so your heart doc probably would advise against the latter offering, but Mudgie's makes everything from scratch and uses quality meats and ingredients. Oh, they serve alcohol, too.

Photo via Mudgie's Detroit/Facebook



Zingerman's Delicatessen
422 Detroit St., Ann Arbor; 734-663-3354; zingermansdeli..com
You can't spell "essential" without Ann Arbor's beloved Zingerman's Delicatessen. Well, OK, we're not great at spelling, but we know how to eat the incredible selection of sandwiches offered by this James Beard Award recognized deli.

Photo via Zingerman's Deli/Facebook
Stage Deli
6873 Orchard Lake Rd., West Bloomfield; 248-855-6622; thestagedeli.com
Opened in 1962, Stage Deli is a must-taste spot for anyone who fancies a classic deli sammy. Their signature warm seedless rye is what makes Stage Deli sandwiches so special. Take the West Side Story, which has hot corned beef or pastrami, coleslaw, and Russian dressing or the Hamilton, which has hot roasted brisket, lettuce, tomato, Russian dressing, and horseradish.

Photo via Stage Deli/Facebook
Dan & Vi's Pizza Deli
5951 Chene St., Detroit; 313-924-6077
This family-owned business is known for being able to customize its sandwiches and pizza. Some of its specialty sandwiches include the Bad Ass Bully, the Chene Street, and the Vi.
Photo via Dan & Vi's Pizza Deli / Facebook


Spread Deli + Coffee
4215 Cass Ave., Detroit; 313-782-4946; spreaddetroit.com
Care for some caffeine with your loaded AF sandwich? Spread Deli in Midtown has only been open for a couple of years but recently moved into bigger digs to accommodate their many sandwich offerings. They've recently extended their hours to include late night bites.

Photo via Spread Deli + Coffee/Facebook


Hydrangea Kitchen
371 Fisher Rd., Grosse Pointe; 313-469-9970; hydrangeakitchengp.com
Easy to pass, but hard to forget, Hydrangea Kitchen offers a comfortable, kitschy environment and meals made fresh on the spot. Get a classic sandwich, like the Philly cheesesteak, or get something new, like the brie butter apple. Or, if you're looking for a treat, try the Caesar sandwich with grilled parmesan cheese. Also, any sandwich can be made into a wrap!

Photo via Hydrangea Kitchen / Facebook


Nathan's Deli
581 E. Jefferson Ave., Detroit; 313-962-3354; nathansdelidetroit.com
Nathan's serves deli sandwiches, roll-up sandwiches, specialty sandwiches, and more. It also offers catering and vegetarian options.

Photo via Nathan's Deli / Facebook
Al's Famous Deli
32906 Woodward Ave., Royal Oak; 248-549-3663; breadbasketdelis.com
Since the 1960s, owner Al Winker has been serving large corned beef sandwiches. Yes, it is true that Al's sells over 12 tons of corned beef every week.

Photo via GoogleMaps
Balkan House
2028 Caniff St., Hamtramck; 313-262-6234 | 314 W. Nine Mile Rd., Ferndale; 248-268-4920; thebalkanhouse.com
Hamtramck's Balkan House made waves locally thanks to its döner kebabs — the gyro pocket sandwiches that are Turkish in origin, but popular in Europe. Balkan House expanded to Ferndale in 2019.

Photo by Tom Perkins
Peepo's Subs and Shawarma
10890 Beech Daly Rd., Taylor; 313-299-9992; peepossubs.com
This quick, yet quality restaurant specializes in sub sandwiches and Middle Eastern sandwiches and shawarmas. Customers also love its house-made smoothies and its spicier "Africano" menu.

Photo via GoogleMaps
Saffron De Twah
7636 Gratiot Ave., Detroit; 586-359-6138; saffrondetwah.com
Though this 2020 James Beard Award semi-finalist for best new restaurant has a lot more to offer than just sandwiches, its sandwiches are a standout offering. At Saffron De Twah, the Moroccan fried chicken sandwich, Moroccan Fried Fish Sandwich, and the Moroccan Smash Burger are among some favorite bites.

Photo via Saffron De Twah / Facebook
Stadium Deli
1956 S. Industrial Hwy., Ann Arbor; 734-662-2885
For years, Stadium Deli has been serving U of M's community, known for its different variations of Stromboli. It also serves wine, beer, and liquor because you don't need football to tailgate.

Photo via GoogleMaps
Que Huong
30820 John R. Rd., Madison Heights; 248-588-0988; quehuongdetroit.com
Pho might be Que Huong's specialty but this Madison Heights strip mall spot has some of the city's best banh mis, but they're sort of a secret, as they're not listed on the menu. But ask the server and you shall receive. The Vietnamese-French sandwiches are served on a big, crusty roll similar to a baguette. The barbecue pork banh mi is assembled with a sweet and acidic layer of pork, crunchy shredded carrots, sprigs of cilantro, slices of spicy jalapeño, and large slices of cucumber.

Photo via Shutterstock.com
New York Bagel
23316 Woodward Ave., Ferndale; 248-548-2580; newyorkbagel-detroit.com
We're not telling you what to do with your life but we think that life is better when sandwiches are made with bagels. That's right. We're talking about a Lox sandwich on a fresh-out-of-the-bagel-oven everything bagel. How about egg, cheese, and tomato on a rosemary and sea salt bagel? For 100 years, New York Bagel has slayed and sliced the boil-and-bake bagel game and for that we are grateful and hungry.

Photo via GoogleMaps
Pickles and Rye
6724 Orchard Lake Rd., West Bloomfield; 248-737-3890; picklesandryedeli.com
Since 2014, Pickles and Rye has offered multi-meat sandwiches, salads, soups all of which are made-in-house with locally-sourced ingredients. If multi-meat offends your vegetarian or vegan palate, there are plenty of deli favorites that can be made to order.

Photo via Pickles and Rye/Facebook
Gonella's
295 Oakwood Blvd., Detroit; 313-841-3500 | 10021 Telegraph Rd., Redford Charter Twp.; 313-535-7827; gonellas.com
Gonella's is Detroit's original Italian deli. It's been serving food for over 75 years, and recently opened a Redford location. It specializes in Italian meats and a large selection of sides and toppings.

Photo via Gonellas Foods / Facebook
Bread Basket Deli
Various locations; breadbasketdelis..com
Al Winkler launched his corned beef empire in 1967, resulting in the beloved Detroit deli chain, Bread Basket. With multiple locations throughout metro Detroit, Bread Basket specializes in and revolves around corned beef, which is cooked fresh every three hours. Bread Basket churns through 20,000 lbs weekly, the most of any one restaurant in the nation.
El Rey de las Arepas
7701 McGraw Ave., Detroit; 313-307-2210
If you've never had a homemade Venezuelan arepa, this is the place to go. An arepa is a sandwich made with ground maize dough and meats and veggies in between.

Photo via El Rey de las Arepas/ Facebook
Siegel's Deli
3426 E. West Maple Rd., West Bloomfield Twp.; 248-926-9555; siegelsdeli.com
If traditional Jewish delicatessen gets you verklempt, look no further than Siegel's Deli in West Bloomfield, which offers homemade soups, salads, and huge deli sandwiches., including an entire menu selection of "overstuffed sandwiches." They have non-overstuffed offerings, too, but we figure it's best to go big or go home. Preferably go home with a sandwich.
Photo via Siegel's Deli/Facebook