Getty Images

SPUTNIK LAUNCHED
4 October 1957, Baikonur, Kazakhstan

On 4 October 1957, the Soviet Union successfully launched the first artificial satellite into space. Weighing 83.6kg and measuring 56cm in diameter, the satellite was perhaps something of a visual disappointment. Nonetheless, the launch was an unprecedented success and ushered in the age of the space race, as both the USSR and the USA rushed for greater technological advances concerning space travel. Taking 96 minutes to orbit Earth, the satellite remained in orbit until 4 January 1958. The announcement of Sputnik's launch was made in the Russian newspaper Pravda, which stated: "Artificial earth satellites will pave the way to interplanetary travel and, apparently our contemporaries will witness how the freed and conscientious labour of the people of the new socialist society makes the most daring dreams of mankind a reality."


Getty Images


SIR ISAAC NEWTON DEFINES GRAVITY
c.1665, UK

Although the famous story of an apple hitting the young man on the head and inspiring his theory is most likely a myth, Newton's discovery of gravity was integral in the developing field of physics. His Philosophiae Naturalis Principia Mathematica, in which the theories were published, is considered by many to be the greatest scientific book ever written.


Wiki/Library of Congress


FIRST POWERED FLIGHT
17 December 1903, North Carolina, USA

When Wilbur and Orville Wright achieved the first powered flight after years of experimenting with gliders they could not have imagined the world they would usher in. The explosion of aviation technology throughout World War I and the development of commercial aviation has connected the globe like never before.


Alamy

FIRST COINS AS CURRENCY
c.600 BCE, Lydia (modern Turkey)

When the Lydians began using coins as currency they fundamentally changed how people thought about value. Now, tokens had value bestowed upon them by the authority of the ruling government, standardising costs and revolutionising trade. Banking and wealth no longer had to be tied to the tradable goods alone.


FIRST PRODUCTION LINE
1 December 1913, Detroit, USA

On 1 December 1913, automobile pioneer Henry Ford unveiled the first moving assembly line, able to construct an entire vehicle. The decision was built around the desire to flood the market with his Model T vehicle and increase the productivity of his factories. While this invention changed industry, it also ushered in the age of the motor car as Ford's continuing innovation meant that soon, everybody wanted (and could afford) one.
Wiki/Zeno.org

FIRST AUTOMOBILE PATENTED
29 January 1886, Mannheim, Germany

While motorised vehicles had been around for several years, the first internal combustion engine automobile as we would recognise it today was the three-wheeled Motorwagen invented by Karl Benz. Its proof of concept for motorised carriages was the precursor to mechanised travel for all.
Alamy

FIRST BBC BROADCAST
2 November 1936, London, UK

On 2 November 1936 the British Broadcasting Corporation made its very first broadcast, from Alexandra Palace in London. Television had been in development for some years prior to this and an experimental service had been set up in 1929. However, the BBC broadcast ushered in an institution that continues to this day. It also began to demonstrate to the world the possibilities of a national television service. Thanks to this moment, in 1953 millions were able to watch the coronation of Elizabeth II.


Getty Images

WILHELM ROENTGEN DISCOVERS X-RAYS
8 November 1895, Germany

In 1895 Wilhelm Roentgen discovered X-rays, and the effects on the medical profession were immediate. Within a few years, discoveries were being made regarding the effects of the rays on cancers and the treatment of skin problems, and were being introduced in clinics to visually show bone fractures. Today, X-rays are widely used in health services throughout the world and are instrumental in doctors' ability to diagnose and treat medical conditions.
Getty Images

HUMANITY LANDS ON THE MOON
20 July 1969

On 16 July 1969, NASA's Apollo 11 containing astronauts Neil Armstrong, Michael Collins and Buzz Aldrin launched. The Moon landing four days later led to an explosion of interest in space research, with further Apollo missions launching over successive years. Among the many impacts of the Moon landing was the ability to bring samples back. In particular, this furthered our geological understanding of the Moon, proving both it and the Earth came from the same body.
Alamy

FIRST PHONE CALL
10 March 1876, Boston, USA

On 10 March 1876, 29-year-old Alexander Graham Bell made history when he rang his assistant and briefly instructed him to: "Come here, I want to see you." It was the first telephone call, made only three days after the publication of his patent. A year later, Bell set up a telephone company with the intention of improving and perfecting his invention, as well as installing wires across the United States. The impact of Bell's device was vast and affected many areas, from businesses (whose owners would previously have to locate their premises near close contacts) to war. Indeed, during World War I telephone and telegraph wires ran along the trenches and allowed real-time conversations with command. Today we now have personal phones equipped with wireless capability and a variety of other applications that make us reachable, no matter where we are.
Wiki/Daderot

FIRST RADIO SHOW
24 December 1906, Massachusetts

On Christmas Eve 1906, inventor Reginald Fessenden broadcast the first programme of music and voice over the radio. The broadcast began at 9pm and included readings of verse and a phonograph recording of Handel's Largo. He followed this with a similar New Year's Eve programme, picked up by boats in the West Indies. While numerous individuals are credited with exploring the possibilities of radio, Fessenden's contributions were some of the first to further explore overseas broadcasts.
Wiki/Jonnychiwa

THE FIRST CAPTURED PHOTOGRAPH
c.1826-7, France

Inventor Joseph Nicéphore Niépce created the world's oldest surviving photograph using a camera obscura and heliography, a technique that he developed. His success was followed by a long line of advancements over the next two centuries, from the daguerreotype process to digital photography, enabling us to capture images in real time. Thanks to photography, moments could be documented, copied and widely distributed, changing the way we see the world forever.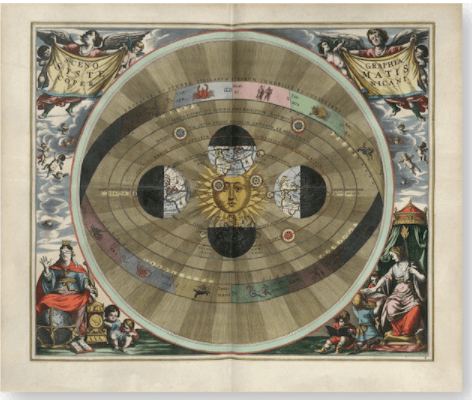 Wiki/phy.uu.nl

COPERNICUS PUBLISHES HIS HELIOCENTRIC THEORY
1543, Frombork, Poland

Mathematician and astronomer Nicolaus Copernicus published his book On the Revolutions of the Heavenly Spheres, revealing his heliocentric theory, an astronomical model that placed the Sun at the centre of the universe. The book, published just before his death, triggered the Copernican Revolution that saw scholars move away from the traditional Ptolemaic model – with Earth at the centre – to the heliocentric one, transforming the way the universe was understood.
THE FIRST COMPUTER PROGRAMME
1843, England

The Analytical Engine, designed by mathematician and engineer Charles Babbage, was the first general-purpose programmable computer. It was never fully built but nevertheless Ada Lovelace, often cited as the first computer programmer, understood the full potential of the machine. She believed that it could do more than just mathematical calculations and even suggested that it could be used to compose music. A true visionary, in 1843 she wrote many algorithms for the Engine while translating a French paper about it, including an algorithm for calculating Bernoulli numbers, which is regarded as the world's first computer programme.
Getty Images

THE INVENTION OF WRITING
c.3,400 BCE, Mesopotamia

Something as simple as the invention of writing is a challenging thing to pin down, as you might imagine. It's believed that written script, distinct from pictorial language, was developed independently in the Near East, China and Mesoamerica at different times, but the earliest known is that of Sumer in Mesopotamia. Their cuneiform script evolved from their use of tokens and images as more and more complex information needed to be conveyed. At first accounting was the primary use for cuneiform, but funeral rights and stories of the afterlife also became of interest. Ultimately the written word revolutionised the way people collected, saved and shared information.
Getty Images
MASS PRINTING BEGINS
1450, Mainz, Germany

Johannes Gutenberg was a 15th century German craftsman, credited with the creation of the first moveable printing press. It was this device that would be used to produce the famous Gutenberg Bible – 200 copies were printed, some 48 of which are still in existence. Yet the celebrated Bibles were just a small part of the printing press's legacy. Soon printers began to send pamphlets to sailors that would then be copied by other printers and read aloud in public houses, in an early form of news. The press also allowed the mass printing of works in a cheap and timely manner. This allowed many rare classical texts, which previously had existed as a single handwritten copy, to be saved for prosperity. It also allowed radical voices a medium through which to express their views. Despite the invention of the internet, printing is still an integral part of society, without which the magazine you hold in your hands could not have been produced.
Alamy

INVENTION OF THE COMPASS
c.2nd century BCE, China

Although it is believed that the magnetic compass was invented during the Han dynasty, it was first used for navigation during the Song dynasty, between the 11th and 12th centuries. A reliable and critical tool for navigating uncharted waters, compasses opened up the world for exploration and the subsequent development of global trade. An instrument still widely used today, the compass transformed our knowledge and understanding of Earth.
Wiki/Imperial War Museum

THE BIRTH OF ANTIBIOTIC MEDICINE
1928, London, England

Scottish physician and scientist Alexander Fleming returned from holiday to find that his petri dishes of staphylococcus bacteria were contaminated with mould. He realised that the mould – penicillin – had killed the bacteria, an accidental discovery that led to the development of the world's first antibiotic. Penicillin was first used to treat patients with bacterial infections in 1942, and three years later Fleming was awarded the Nobel Prize.
Wiki/Museo Del Prado

BLACK DEATH BEGINS TO RECEDE
1351, Europe

From 1347 to 1352, the Black Death swept through Europe, killing millions of people throughout the continent. The outbreak of the plague fundamentally altered medieval life as it triggered massive economic, religious, political and social change. For example, peasants who had survived were able to negotiate for better pay due to the higher demand for labour, and it has also been argued the Black Death contributed to the end of feudalism.
Getty Images

MARIE CURIE DISCOVERS RADIUM
21 December 1898, Paris, France

Devoting her life to scientific research, physicist and chemist Marie Curie worked alongside her husband, Pierre, investigating radioactivity. In June 1898, while conducting research into the mineral of pitchblende, made of around 70% uranium, the couple discovered a new element – polonium – which they named in honour of Marie's native country, Poland. Six months later, they discovered a second element, radium. After uncovering the existence of radium, the Curies successfully isolated radioactive radium salts in 1902, and the following year they were awarded the Nobel Prize for Physics for their work on radioactivity, a prize they shared with fellow physicist Henri Becquerel. The first woman to win a Nobel Prize, Curie was awarded a second Nobel Prize in 1911, this time for chemistry, for her discovery of polonium and radium. Thanks to her discoveries, Curie paved the way for finding treatments for cancer as well as the development of accurate X-ray machines.
Wiki/ETH-Archiv

EINSTEIN DETERMINES THE LAWS OF PHYSICS
26 September 1905, Switzerland and Germany

Theoretical physicist Albert Einstein revolutionized our understanding of time, space, gravity, mass and the universe with his special and general theories of relativity. Among his discoveries, he concluded that time does pass at the same rate for everyone and that gravity is caused by a warping of space and time.

FIRST TELEGRAPH SENT
21 October 1832, Saint Petersburg, Russia

In 1832 Russian electrical engineer Pavel Schilling invented an early form of telegraph. He proposed to Tsar Nicholas I the building of a telegraph line between the Peterhof Palace and a naval base. Unfortunately, Schilling died and the project was cancelled. Schilling's work was among the first in transmitting signals and was later developed by other inventors.
Wiki/Popular Science Monthly Volume 12


INVENTION OF THE STEAM ENGINE
1698, England

Engineer Thomas Savery patented his first steam pump – also referred to as a steam 'engine' – which used steam to raise water when needed, for example to pump water out of mines. Later on, improved versions powered factory machines during the Industrial Revolution and contributed to the first steam-powered locomotive, changing transportation forever.
Alamy
DATA TRANSFER PAVES WAY FOR THE INTERNET
5 May 1974, USA

Vint Cerf and Bob Kahn are often called the 'fathers of the internet', and with good reason. Their data transfer system allowing different networks of computers to communicate with each other, called the Transmission Control Protocol, paved the way for a global communications network.


INVENTION OF THE TURING MACHINE
1936, England

The Turing Machine is a hypothetical computing device that can read and write data on an infinite piece of tape. The machine can run any algorithm and is considered to be the origin of modern computing. It was invented by mathematician Alan Turing, who subsequently became known as the father of computer science.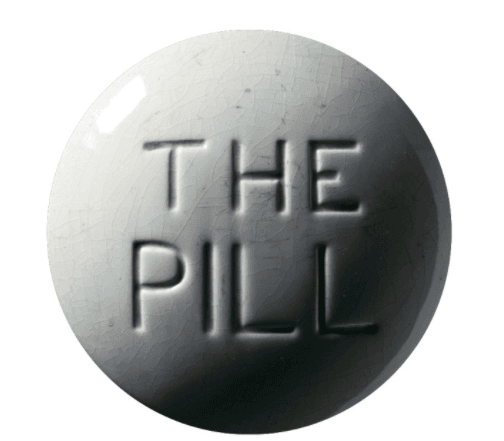 Wiki/Wellcome Collection
ADOPTION OF THE PILL
23 June 1960, USA

The lasting impact of the contraceptive pill was perhaps even more social than it was medical. Developed by Dr Gregory Pincus (inspired by a meeting with activist Margaret Sanger) the pill allowed women to have direct control over their own bodies in a way that other contraceptives had not allowed. The significance of this socially was that the pill allowed women to make more confident plans about how and when they wanted to have a family, opening up space for pursuing higher education and careers in a way that would have been more precarious in the past. It also coincided with the 'swinging sixties' and became even more popular during the women's movement of the 1970s.
Getty Images

DOUBLE HELIX DNA DISCOVERED
25 April 1953, Cambridge, UK

Based on the findings of Maurice Wilkins and Rosalind Franklin at King's College London, Francis Crick and James Watson (above) published their analysis of DNA, the molecule that contains the inherited information of cells, in science journal Nature in April 1953. The groundbreaking research identified how biological information is passed from parents to child, which in turn improved our understanding of things like hereditary disease. The core of this discovery was the double helix structure of DNA that helped to explain how it replicates and shares information. It was so elegant an explanation that the discovery is sometimes called the 'Mona Lisa of science'.
Alamy
THE FIRST SMALLPOX VACCINE IS TESTED
14 May 1796, England

For centuries the world lived in fear of smallpox, the deadly and highly infectious disease that left millions dead and devastated entire civilisations. In 1796, an English doctor named Edward Jenner realised that milkmaids who had contracted cowpox – a similar but milder form of smallpox – were often immune to smallpox. He inoculated an eight-year-old boy, James Phipps, with pus taken from a cowpox blister before inoculating him again six weeks later with smallpox matter, a process he called 'vaccination'. Jenner continued to expose Phipps to smallpox but the boy showed no signs of the disease, proving that he had successfully developed immunity. Smallpox vaccines eventually became standard practice, with vaccination programmes implemented around the world during the 20th century. Jenner's research paved the way for vaccines for other diseases such as rubella and yellow fever, and in 1980 the World Health Organisation declared that smallpox had been completely eradicated