Self care goodies, unique home decor pieces and more – all for under $25.
By Tessa Flores via Huff Post
AMAZON
A pair of cushioned cloud slides, an amber-scented natural soy candle and an Ovente electric kettle.PSA: Valentine's Day is only two weeks away. If it's caught you by surprise, don't fret — especially if you're not looking to spend a fortune on quality gifts.
Amazon is proven to be a reliable source for quickly delivering giftables on the cheap, and whether you're showing your love this season to a significant other, a best friend or your kiddo, the online retailer can, once again, be your one-stop-shop.
Even though the upcoming selection of Valentine's Day goodies are all under $25, they won't betray their reasonable price point. Find actually impressive, unique and non-junky items like a set of pink gilded champagne coups, a water-resistant Bluetooth speaker with tons of positive reviews and an assorted flight of gourmet truffles.
HuffPost may receive a share from purchases made via links on this page. Every item is independently selected by the HuffPost Shopping team. Prices and availability are subject to change.
1. A Bluetooth tracking tile
This small waterproof Bluetooth tag can slide into suitcases and wallets or easily attach to keys so valuables are never lost again. Through the Tile app, items can be tracked up to 250 feet away and past locations remain visible, even when the item is out of Bluetooth range. Your gift-receiver can also set up notifications if their item has been found as well as sound alerts.
2. A pair of gilded Champagne coups
Crafted from hand-blown fine crystal, this pair of elegant Champagne coups sport a gilded rim and long dainty stems.
3. A water-resistant Bluetooth speaker
With a whopping 141,287 five-star Amazon ratings to its name, this portable Bluetooth speaker has Cambridge Soundworks-engineered audio that won't distort, even at higher volumes. It also features 10 watts of peak power output, a water-resistant design and up to 10 hours of play time per charge.
4. A viral lip sleeping mask
Laneige's cult-favorite and intensely moisturizing lip sleeping mask is adored for its cushiony formula. It's the perfect way to smooth parched, flaky lips. It uses a berry mix complex to boost moisture and deliver antioxidant benefits overnight, while a blend of shea and seed butters nourishes lips.
5. A terra cotta garlic baker
If your loved one loves roasted garlic, this baking dish makes preparing (and storing) it easier than ever. Made from an oven- and microwave-safe terra cotta, the lid comes vented and the interior is glazed for easy clean-up.
6. A pair of insulated espresso mugs
Sure to satisfy the person in your life who is all about the minimalist aesthetic, these liquid-suspending espresso mugs are double-walled for extra insulation and are made from condensation-resistant borosilicate glass.
7. An electric mug warmer
Slow sippers will love this electric mug warmer that helps keep warm beverages the ideal temperature. It's compatible with most standard mugs and the splash-proof heating plate offers three heat settings as well as an automatic shut-off function after four hours.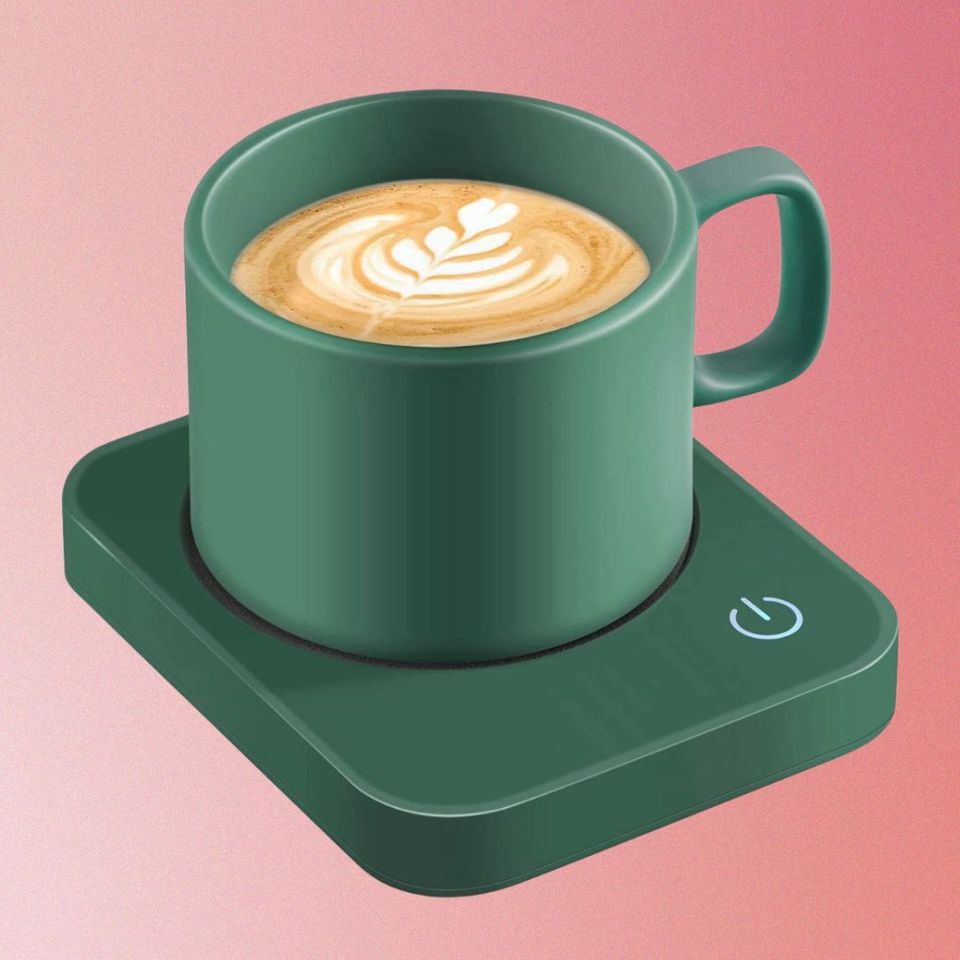 8. A pair of cushioned cloud slides
These lightweight cloud slides have a delightfully bouncy and cushioned sole, an anti-skid outer sole and a soft, fully waterproof construction. They are available in unisex sizing and come in 19 color options.
9. A pair of Barefoot Dreams socks
You may have heard internet whisperings about the Barefoot Dreams blanket, a luxurious throw that is loved by celebrities and is as soft as can be. It turns out the brand used their same famed microfiber knit when making this pair of warm, fluffy socks.
10. A canvas toiletry bag
This large-capacity toiletry bag is made from a durable water-resistant canvas and features an inner zippered compartment, three inner mesh pockets and a zippered front pocket.
11. An Ovente electric kettle
Made from a BPA-free plastic and boasting 1100 watts of power, the Ovente electric kettle can rapidly and efficiently boil 1.7 liters of water. It comes equipped with a removable filter, a rotatable base and built-in cord storage to avoid any unsightly cord clutter.
12. A plush knot pillow
For an added touch of modern interior design flare, grab these plush knot pillows that are only $20. Available in four colors and three sizes, these pillows are made with a short plush lamb wool fabric filling for structure that stays full and won't deform over time.
13. A set of six aromatherapy shower steamers
Infused with six different essential oils, these steamers fizz and melt at the base of the shower to deliver some serious spa-like aromatherapy. The different scents include peppermint, lavender, eucalyptus menthol and more.
14. A Godiva gourmet truffle flight
Godiva's 6-piece flight of patisserie truffles includes confections like a strawberry créme tarte truffle, a black forest cake truffle and a tiramisu truffle.
15. A natural moroccan amber candle
This La Jolíe Muse natural soy wax candle sits in an embossed glass jar and quickly diffuses warm notes of amber, vanilla and eucalyptus. It also promises 72 hours of burn time and has a clean-burning cotton wick.
16. A sore muscle massage oil and roller ball
Know someone who could use some tension relief? This massage oil is formulated to soothe sore muscles and target joint pain with a blend of arnica extract, essential oils and vitamin E for anti-inflammatory benefits. The included 360-degree massager ball can also make it easier to work out particularly difficult areas without tiring hands and fingers.
17. A Tocca perfume discovery set
This discovery set from Tocca contains eight mini spray vials of the luxury fragrance brand's favorite perfumes. Standouts include Maya, a rich fragrance of black currant and wild iris, and Stella, which features notes of blood orange, freesia and spicy lily.
18. An electric milk frother
Receivers of this handheld electric frother can make fluffy cappuccinos, silky lattes and blended matcha. It comes with its own countertop stand for storage.
19. Thirty pairs of collagen-infused eye patches
These gel eye patches are infused with tons of skin care ingredients like hyaluronic acid, rose oil and plant-extracted collagen. They promise a refreshing and targeted dose of de-puffing, brightening and hydration to the under-eye, making them perfect to give to any skin care fanatic on your list.
20. A conditioning beard oil
Honest Amish's conditioning beard oil is meant for even the most unruly of beards. It contains an organic selection of eight different hydrating oils including argan, golden jojoba and apricot kernel oil.